Jobless claims fall to 2-1/2 year low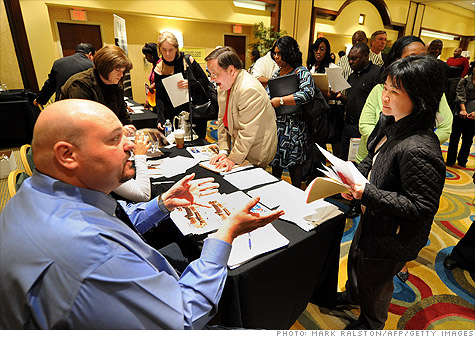 NEW YORK (CNNMoney) -- The number of Americans filing for first-time unemployment benefits fell to the lowest level in more than 2-1/2 years last week, easing some of the disappointment about a weak monthly jobs report.
There were 383,000 initial jobless claims filed in the week ended Feb. 5, the Labor Department said Thursday. That was down 36,000 from the week before, and much better than the 410,000 claims economists surveyed by Briefing.com had expected.
It was also the lowest level since July 5, 2008, when 371,000 first-time claims were filed.
Continuing claims -- which include people filing for the second week of benefits or more -- fell by 47,000 to 3,888,000 in the week ended Jan. 29, the most recent week available.
The weekly figure has jumped around in the last two months, and economists say the data may not be completely "clean" yet. Winter weather can make the figure volatile, because it can temporarily put people out of work and close state unemployment offices.
"These data have been sort of distorted by weather and various statistical clouds over the last 8 weeks, but it looks like new jobless claims are trending lower," said Zach Pandl, an economist with Nomura.
Pandl points to the 4-week moving average of initial claims to show that the overall trend still remains on a downward track, even in spite of weather-related distortions. That number fell by 16,000 to 415,500 in the latest week.
The report comes less than week after a confusing January jobs report fell far short of expectations, showing only 36,000 jobs added during the month. However, the unemployment rate slipped to 9% from 9.4% in December.