Companies that pay a lower tax rate than you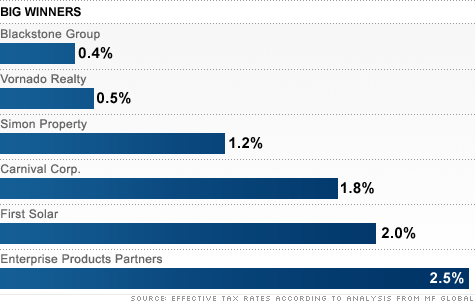 NEW YORK (CNNMoney) -- The U.S. corporate tax rate stands at 35%, the highest in the industrialized world. But finding companies that actually pay 35% is another story.
Cruise ship operator Carnival (CCL), for example, pays only 2%, according to research from investment firm MF Global. Private-equity firm Blackstone (BX) -- less than 1%.
But some lawmakers want that to stop. President Obama called for corporate tax reform in his State of the Union address and the concept has support among lawmakers on both sides of the aisle.
The idea of tax reform is to lower the corporate tax rate while greatly scaling back tax breaks, loopholes and other provisions of the tax code that allow most corporate income to avoid taxation.
According to figures from the Internal Revenue Service, all active corporations had an effective tax rate of 27.3% in 2006, the most recent information available. Corporations with a foreign tax credit did even better, paying only 24.2%.
MF Global's analysis looked at four years of pre-tax income from companies with market values above $10 billion and found 28 major companies with an effective tax rate of less than 20% -- roughly what typical American workers pay in individual taxes.
Tricks of the trade
Companies that use offshore headquarters to lower their tax bills are a top target for tax reform advocates, according to Anne Mathias, MF Global's director of research who did the analysis.
For example, Transocean (RIG), the oil drilling company involved in the Gulf of Mexico oil spill last year, paid only 14% of its income in taxes.
For years, Transocean had its headquarters in the tax haven of the Cayman Islands, even though its management team was based in Houston. In 2008, the company moved its legal and operational headquarters to Switzerland, citing the Swiss tax structure and tax treaties among the prime reasons for the move.
But Transocean says that comparing its pre-tax income to its U.S. tax bill isn't a fair comparison, because the company is only obligated to pay Uncle Sam taxes on its U.S. operations, which accounted for only 20% of its 2009 revenue.
Carnival also benefits from sheltering its income overseas. Carnival said even though its headquartered in Miami, it is incorporated in England and Panama and is not a U.S. company, but still generates plenty of income for the United States economy
"As our principal business is as passenger cruise lines, we operate outside the U.S. most of the time," said a statement from the company. "Cruise ships bring significant economic benefits to ports and generate tens of thousands of jobs in the U.S."
Moving offshore isn't the only way to reduce taxes. By incorporating as a Limited Partnership, Blackstone Group, one of the world's largest private equity firms and alternative asset managers avoids being subject to the regular corporate rate.
MF Global's tax analysis shows Blackstone enjoyed the lowest tax rate of any company in the study, paying less than 1% of pre-tax income of $19 billion over five years.
Blackstone counters that as a private partnership, it's unfair to compare its taxation to other corporations, because it distributes its income to partners, who then pay personal income tax on the money.
"Applying corporate tax principles to a partnership is to mix apples and oranges," said Blackstone spokesman Peter Rose. "A partnership passes through nearly all its earnings to its partners, which then pay tax on those earnings at a much higher rate than any corporation would."
There are plenty of members of Congress, including the new head of the Senate Finance Committee Max Baucus, who have raised questions on whether publicly-traded partnerships should be able to get a pass on the 35% rate.
Mathias thinks Blackstone and other partnerships such as Kinder Morgan Energy Partners (KMP), which also made her list with only a 4.5% effective tax rate, are at risk of having their taxes raised by reform.
She thinks there's about a 30%-40% chance of corporate tax reform passing Congress later this year, and that even if the current push falls short, some kind of reform is likely in the next few years.