Verizon iPhone draws small crowds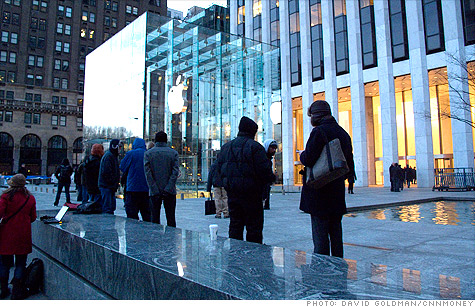 NEW YORK (CNNMoney) -- After years of rumor and speculation, the Verizon iPhone is finally on sale to the general public.
Verizon (VZ, Fortune 500) and Apple (AAPL, Fortune 500) stores across the country opened their doors at 7 a.m. local time to sell the iPhone 4, which for the first time is available on a U.S. wireless network not named AT&T (T, Fortune 500).
In contrast to the lines of thousands that turned out in June for the iPhone 4's release, the Verizon iPhone got off to a quieter start. The line of waiting buyers held just eight people 15 minutes before it went on sale at Apple's flagship New York City store near Central Park.
None were AT&T defectors: Two said they were already Verizon customers, one was a MetroPCS subscriber and the rest were switching away from T-Mobile.
"I'm not happy with my [Motorola] Droid," said Robert Baneky, a Verizon customer who had been on line since 5:45 a.m. "My phone's too slow. I hear the iPhone is faster."
But at a nearby Verizon Wireless store, a queue of about a dozen buyers held a few ready to trade in their existing AT&T iPhones. The first buyer in line, Lauren Asther, 19, was ready for a new carrier: "I have the AT&T phone, and it kept dropping calls," she said.
A store employee said she was expecting things to pick up: "We are prepared for another record sales day." Verizon Wireless turned its Twitter account over to iPhone news, tweeting a series of photos of customers around the country turning out to be among the first wave of buyers.
Fast sellout: The iPhone went on sale online last week exclusively to existing Verizon customers, and the carrier sold out its stock in just 13 hours. Early estimates from Ticonderoga Securities suggest Apple sold between 700,000 and 1 million Verizon iPhones last week. Other estimates vary: An assistant of Piper Jaffray's Apple analyst Gene Munster said Thursday morning that last week's sales were likely only between 250,000 and 500,000.
Those who pre-ordered began receiving their phones earlier this week. YouTube and iReport are already filled with reports from Verizon's new iPhone owners.
Today, non-Verizon customers will get their opportunity.
About 2.5 million AT&T customers are expected to defect to Verizon, according to a Yankee Group survey.
Years of being the exclusive provider for the data-hogging iPhone have taken their toll on AT&T: The carrier's data demands rose 5,000% after it first got the iPhone in 2007. As a result, AT&T quickly fell out of favor with its customers, especially iPhone subscribers. It was recently labeled "the worst network in America" by Consumer Reports.
Still, the vast majority of AT&T's roughly 20 million iPhone customers are expected to stick with the carrier, thanks to a number of strategic moves made by the network, including early upgrades that locked customers into two-year contracts.
But Verizon has a few competitive tricks up its sleeve. It's going after AT&T's customers by offering unlimited data plans for the iPhone for a limited time.
"AT&T's plans didn't interest me," said Hector Labriel, a 23-year old T-Mobile customer from the Bronx. "The iPhone has been tempting, but I wanted to wait until it was on Verizon to get the unlimited data plan."
In June, AT&T slashed the starting prices of its data plans, but also added caps to them and eliminated its unlimited plan. AT&T customers now pay $15 a month for 250 megabytes of monthly data, or $25 for 2 gigabytes and an additional $10 for each gigabyte of monthly data usage that exceeds the allotted 2 GB limit.
So even though the cheapest available monthly iPhone voice plus data plan on AT&T is $54.99, compared to $69.99 on Verizon, customers that download 2.1 GB of data on their iPhones will pay $69.99 if they have Verizon -- compared to $74.99 on AT&T.
For a limited time, anyway.