A drivable couch at Chicago's Auto Show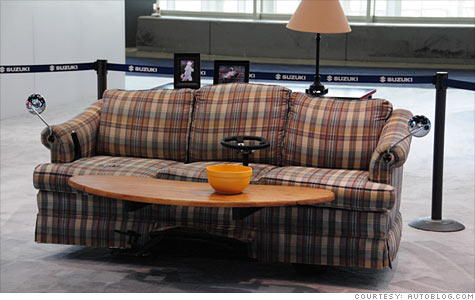 NEW YORK (CNNMoney) -- It's big, comfortable and gets great fuel economy but it's kind of slow, doesn't drive very well and the braking stinks. That shouldn't be too surprising, considering that this is an Archie Bunker-era couch.
The drivable sofa with a one-cylinder engine, on display in the American Suzuki booth at the Chicago Auto Show, is the punchline to an ad touting Suzuki's new Kizashi sports sedan's ride, performance and comfort.
In addition to an engine that doesn't quite manage six horsepower and a couple of small tears in the upholstery, the couch also features "a variety of loose coins, cookie crumbs and pocket lint resting just beneath the seat cushions," according to an announcement from Suzuki.
Also provided at no extra cost: throw pillows, a remote control and a bowl of chips.
"We knew our Kizashi would prevail against this formidable competitor," joked Steven Younan, director of marketing and product planning for American Suzuki about the head-to-head challenge against the plush furniture piece. "It was just a matter of proving it on the blacktop."
In the ad, the Kizashi outperforms both the couch and an Audi A4 luxury sedan in tests of cornering, breaking and interior quietness.
The public will not be permitted to test drive the couch, Suzuki spokeswoman Janelle Miranda said, citing the lack of pretty much anything related to occupant safety.