Oil prices fall on Mubarak's resignation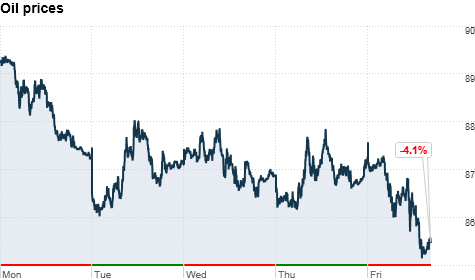 NEW YORK (CNNMoney) -- Oil prices fell following the news that Egyptian president Hosni Mubarak would step down after three decades. Crude oil slumped $1.16 to $85.16 a barrel in midday trading Friday.
Matt Smith, commodity analyst at Summit Energy, said prices had been rising due to the political unrest and uncertainty in Egypt. But prices fell to their lowest levels in several months as tensions eased.
Other dollar-denominated commodities, including gold and silver, also drifted lower following Mubarak's resignation. Gold prices slid $5.30, settling at $1,357.20 an ounce.
In the past week, crude oil prices have been fluctuating wildly as tension and political unrest played out overseas
"We're just waiting for news story after news story of what's going to be positive and what's going to be negative," PFC energy trader Dan Flynn said.
"I do believe when the dust settles, this is a positive thing in Egypt," Flynn said, adding that oil prices could fall further.
Poor weather across the globe and damaged crops also led to a run up in grain prices and other agricultural commodities like cocoa and sugar.
A recent report from IHS Global Insight's Agriculture Service showed food prices are approaching 2008 peaks. Smith added that commodities may continue to head higher over the coming weeks due to Europe's debt worries.
"We're seeing bond yields rise and inflation concerns in Europe so funds are flying into commodities as an inflation hedge," Smith said.