Why one oil company dumped natural gas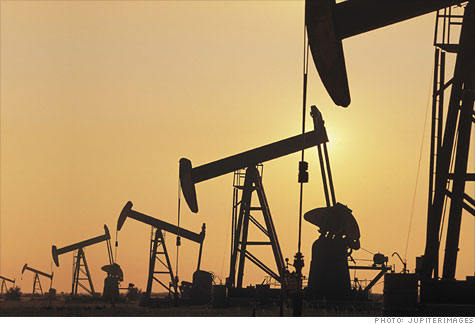 FORTUNE -- In the past couple of years, new drilling methods have allowed energy companies to pull more natural gas out of the earth than ever before. The technological advances launched a veritable gold rush, and every company that could got in on it.
But today, gas still doesn't cost enough for companies to rake in a big profit from drilling it. Back in November, Fortune said that some of the independent drillers probably wouldn't be able to keep investing in natural gas as long as it remained cheap, around $4 per million British Thermal Units.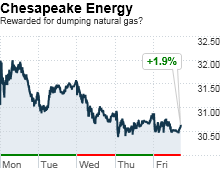 That's because while gas may be cheap, drilling is expensive. To drill, energy companies have to sign leases that require that they keep producing, even when there's a gas glut. So companies have to supply and supply regardless of demand.
The latest independent to fall prey to this glitch in natural gas economics is Chesapeake Energy (CHK, Fortune 500), which has long been one of the most aggressive natural gas players. This week, the company announced that it would sell about $5 billion worth of its natural gas assets. It was a good idea, gauging the reaction in the market. Shares rose almost 6% following the announcement.
Investors had long been nervous about Chesapeake's strategy. It had taken on a ton of debt to buy into natural gas --- $11.5 billion in total debt as of the most recent available financial information. The asset sales according to the company, will be used to reduce that debt by $5 billion. Chesapeake hasn't yet reported 2010 financial data, but has totaled a net income of just under $1.6 billion through third quarter of September 2010, as comparied to $5.8 billion in net income for all of 2009.* Now, it has decided to further cut its losses and focus on more lucrative, oil-rich assets.
Other companies are doing this too. Investors want to hear that independent gas companies have liquids assets, oil mostly, while the price of natural gas is so low.
That's not to say that everyone is leaving the gas game. In fact, most of the majors are creeping steadily towards more and more global gas assets. Shell Oil Company President Marvin Odum said that the energy giant will produce more gas than oil by 2012. Shell (RDS) has just signed a deal with Russian company Gazprom to boost its liquefied natural gas portfolio. Exxon (XOM, Fortune 500) built the liquefied natural gas capabilities in Qatar from the ground up, turning that country into a world leader for liquefied natural gas exports.
All the majors have gas plays because they don't depend on short-term market fluctuations. Instead, these companies have massive portfolios with other fuel assets all over the globe that will stay profitable until natural gas is. Energy companies are all betting that day will come. But until it does, over-aggressive independents could continue to get culled from the gas game.
*Editor's note: This story was updated after publication to provide additional context around the financial data being cited.