EBay PayPals it forward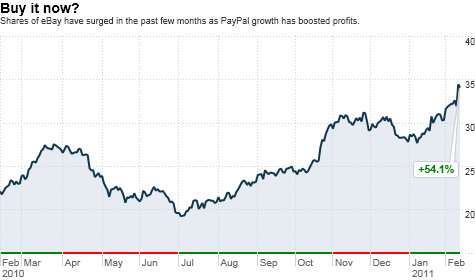 NEW YORK (CNNMoney) -- It wasn't that long ago that eBay was considered a has-been among momentum investors.
The stock did little for most of 2010 until the online marketplace reported third-quarter earnings that were surprisingly strong. eBay followed that up with superb fourth-quarter results as well.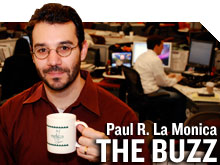 eBay's renaissance can be summed up in one word: PayPal. Since late October, shares are up more than 33%. That includes an 8% pop Thursday after executives gushed to analysts about the growth potential for its payment unit. Shares hit a more than 3-year high on Thursday.
Chief executive officer John Donahoe boasted to analysts that revenue from PayPal could more than double from last year's totals to as much as $7 billion annually by 2013. If that happens, PayPal's sales could soon eclipse the revenue that eBay's bread-and-butter auction sites generate.
But is it really possible that PayPal will pass the core eBay (EBAY, Fortune 500) business that quickly? Analysts seem to believe so. International expansion as well as the increased adoption of PayPal on smartphones could help.
In a report Friday morning, Jefferies & Co. analyst Youssef Squali referred to eBay's PayPal goals as "ambitious but not unrealistic."
Marianne Wolk, an analyst with Susquehanna Financial, added in a research note Friday that she believes PayPal will account for about 45% of eBay's profits within two years. That's up from about 30% now.
Investors are taking notice too. Eric Jackson, managing member at Naples, Fla.-based hedge fund Ironfire Capital and quite possibly the best source for hilarious commentary about breaking tech news on Twitter, tweeted Thursday that it's 'only a matter of time until $EBAY changes its ticker to $PYPL."
Jackson later referred to Donahoe's analyst day remarks as his "I'm no Meg Whitman speech," referring to the former eBay CEO and failed California gubernatorial candidate.
It's a spot-on point. While Whitman obviously did a fantastic job at eBay for much of her tenure there -- she was CEO way back when it went public in 1998 and deserves a huge amount of credit for the company's success -- her reputation took a bit of a hit for overpaying for Internet phone service Skype in 2005.
EBay subsequently dumped Skype for less than what it bought it for and Skype is now preparing (although it's taking its sweet time) for an IPO of its own. Since the Skype sale though, eBay has been a far more focused company.
PayPal always made logical sense as something that meshed well with the auction side of eBay. Now it's proving to be not just a great complimentary service for eBay users but a legitimate standalone business in its own right.
Of course, the big question for investors is whether this is already factored into eBay's stock price.
Shares trade for nearly 18 times 2011 earnings estimates. That's not absurdly high, especially when you look at Amazon.com's valuation. Of course, Amazon (AMZN, Fortune 500) and eBay are not exactly true peers. But for what it's worth, Amazon trades at a stunning 58 times 2011 earnings forecasts.
Still, some think eBay may not have much room to climb. It's valuation may actually seem a bit frothy when you consider that analysts only expect total profits to increase by about 11% this year and in 2012.
ThinkEquity analyst Aaron Kessler wrote in a report Friday morning that eBay looks fairly valued because he thinks the earnings for the core marketplace business are only going to grow by about 5% to 10% annually over the next few years.
Kessler's target price for eBay is $35. Shares closed on Thursday at $34.49.
But others argue that earnings estimates are likely to be revised higher given the company's confidence about PayPal. Caris & Co. analyst Sandeep Aggarwal wrote in a report Friday that current consensus estimates for earnings are still probably too low.
And Josh West, an analyst with Kornitzer Capital in Kansas City, said that investors may be underestimating some of eBay's efforts to bolster its presence in growing parts of the marketplace business, such as fashion and electronics. EBay is one of the top holdings in the firm's Buffalo Large Cap fund.
"PayPal is doing even better than most people thought it was and eBay still has this great network effect of buyers and sellers," West said. "There is upside to this stock. We're in no hurry to sell."
Another fund manager said it looks like the company may also have finally overcome some of the problems that plagued the company after some controversial fee hikes a few years ago.
"It hadn't been a favorite stock of many institutional investors for a while. People were concerned about them losing market share after the fee changes," said Bob Bacarella, manager of the Monetta Young Investor fund in Chicago.
"But people are finally recognizing the value in PayPal. I wish I owned more of the stock," he added, saying that he's both an investor and an active eBay and PayPal user.
Reader comment of the week. The news biz got all worked up in a frenzy over AOL's deal to buy The Huffington Post on Monday and how it would or would not transform the media world. That prompted me to remind people over on Twitter about how investors still mostly view AOL as irrelevant.
I pointed out that AOL's (AOL) stock was down 11% so far this year while Walt Disney's (DIS, Fortune 500) shares were up 11%, adding that "if this is new media, I'd rather be old media."
Now I'll be the first to admit that I'm obviously biased given that I work for Time Warner (TWX, Fortune 500) -- which is not only one of those old media conglomerates but the one that suffered mightily after it merged with AOL.
But leave it to Josh Brown, aka the amazingly talented @ReformedBroker, to point out why the "old vs. new" distinction is sooooo 1997. "There is no New Media or Old Media anymore, only Good Media or Bad Media." Well said.
-- The opinions expressed in this commentary are solely those of Paul R. La Monica. Other than Time Warner, the parent of CNNMoney, and Abbott Laboratories, La Monica does not own positions in any individual stocks.