Obama's wackiest budget cuts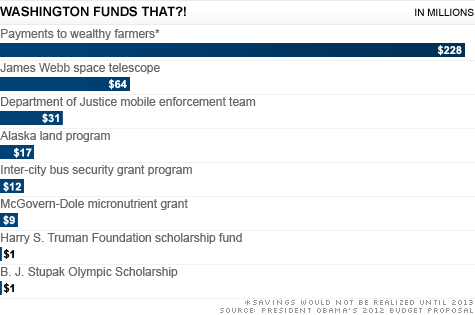 NEW YORK (CNN Money) -- The funding grants nobody wants. The "mobile" policing unit that doesn't get around much. How about the big fancy telescope that has been mismanaged?
President Obama's 2012 proposal lists more than 200 programs that he wants to cancel or cut, for billions in savings.
And it offers a bewildering tour of government projects that don't work, are hopelessly outdated or downright wacky.
There's the $10 million Department of Agriculture program -- named after former Sens. McGovern and Dole -- that funds the study of micronutrients. Obama wants it eliminated because only one person applied for a grant last year.
Obama also wants to eliminate a mobile drug investigation team the government found to be "not mobile." It's supposed to help local cops in rural areas but instead is being "operated primarily in metropolitan areas near DEA offices." That would save $31 million.
The budget would cut $17 million from a program that is trying to transfer 150 million acres of land from the federal government to the state of Alaska or its citizens. The program was launched in the 1960s; five decades later, it is only 58% done. The administration says it is time to "streamline" the program and focus resources on completing the task.
Of course, these cuts will have to make it through an arduous budget process before becoming law. But hey, it's a start.
Also on the chopping block are well-intentioned programs that have become mismanaged or are no longer necessary.
The James Webb Space Telescope, the successor to the Hubble, is among those programs. Obama wants to cut $64 million from the program, which an independent group of experts found to have a "fundamentally broken estimate of cost and schedule."
Savings of $12 million would result from canceling a Department of Homeland Security program that provides federal funds to bus operators to beef up their security operations. The budget notes that the program awards are "not based on risk assessment."
Wealthy farmers could also face a steep reduction in federal government subsidies. Currently, farmers with up to $750,000 in income are eligible for federal payments of $40,000. Obama's proposal would cap the benefit at $30,000 and reduce the maximum income for eligible farmers to $500,000.
A bevy of small scholarships also face an elimination of funding. One on the chopping block is the Harry S. Truman Foundation scholarship fund, which received $1 million in 2010 even though it had operated without government help since the 1970s.
The Obama budget would also knock out a $1 million scholarship for Olympic hopefuls who are pursuing postsecondary education and training.
That program is administered through the Department of Education, which "lacks evidence" as to the program's effectiveness, according to Obama's budget. The budget notes that athletes with financial needs may still receive grant, work-study and loan assistance through other programs.
In the context of Obama's $3.7 trillion budget plan, these programs are small-fry. The budget, which is likely to face stiff resistance in Congress, takes a big bite out of domestic spending and would slash deficits by $1.1 trillion over the next decade.
Two-thirds of those deficit cuts would result from spending reductions, while a third would come from an increase in tax revenue, according to senior administration officials.