Netflix surges to all-time high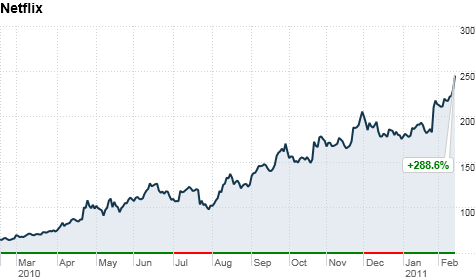 NEW YORK  (CNNMoney) -- Shares of online movie rental company Netflix (NFLX) surged to an all-time high Monday after an analyst upgraded the stock and Qualcomm said it was working to bring Netflix onto more mobile platforms.
Netflix's stock gained 6% to $245.82 near the close of trade, after earlier hitting $247.37 -- its highest level ever.
The 6% jump adds to what has already been a stellar year for the stock, which has gained 40% since the start of this year.
At the Mobile World Congress in Barcelona, chipmaker Qualcomm (QCOM, Fortune 500) said it was developing a new version of its Snapdragon chip platform to bring Netflix and other video streaming services onto Google Android-enabled smartphones.
The new Snapdragon chip is not only designed to meet Netflix's security standards, Qualcomm said, but also handle the battery performance requirements that streaming content needs.
The new chip would give Netflix access to the growing market of Android-powered cell phone users, a market that is estimated be the second-largest behind Apple's (AAPL, Fortune 500) popular iPhone. It's part of Netflix's long-term move to get more consumers watching streaming video instead of traditional DVDs.
Meanwhile, Caris and Co. analyst David Miller upped his price target on Netflix to $316 per share from his previous price target of $224. Miller also kept his "above average" rating on the company.
Netflix's shares have both stunned and frustrated investors for months now as the company's stock continues to strike new highs. Hedge fund manager Whitney Tilson, who had been shorting the stock since mid-December, said in a letter last week that his firm was covering their short and believes it was "no longer wise to bet against Netflix."