Windows Phone 7 gets Kinect linkup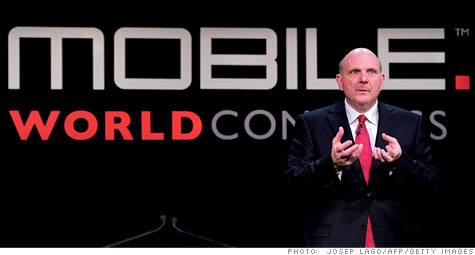 BARCELONA, Spain (CNNMoney) -- Microsoft CEO Steve Ballmer channeled Apple's Steve Jobs at Mobile World Congress in Barcelona on Monday, when the software giant revealed a jaw-dropping "one more thing" at the tail end of an otherwise yawn-inducing Windows Phone 7 presentation.
After a quick intro from Ballmer, Windows Phone 7 head Joe Belfiore unveiled a series of upcoming updates to Windows Phone 7 that included multitasking, SkyDrive (cloud storage) support, and the ability to integrate third-party music players. Of course, Microsoft's (MSFT, Fortune 500) much bigger smartphone rivals, Apple's (AAPL, Fortune 500) iPhone and Google's (GOOG, Fortune 500) Android phones, already have those features.
But then, Belfiore announced that he had "one more thing" to show the audience, stealing a line that Jobs famously employs when he wants to wow his audience with surprising new technology.
That "one more thing" was the ability to use a Windows Phone 7 device with Microsoft's controllerless Xbox 360 Kinect gaming system. The planned integration will turn mobile phones into quasi-controllers for the gaming system.
The example Microsoft used was very cool to watch: If one user is playing virtual dodgeball and another player whips out a Windows Phone 7 device, the phone can recognize the Kinect and let the owner start lobbing balls using the phone. The phone user can see the player and the virtual game on the phone's screen using augmented reality, and more players can join in as well.
Belfiore didn't say when that interoperability would be available, but he said it's "real code," not just a hypothetical demonstration.
Microsoft said all of Windows Phone 7's new features will be available in 2011, but the company did not give a more specific timeframe.
Launching Kinect support for Windows Phone 7 may seem a bit odd, but Kinect is Microsoft's most exciting consumer product right now. The company sold 8 million devices during the holiday season, besting everyone's expectations.
By contrast, Windows Phone 7 has had a slow takeoff. Microsoft has shipped 2 million Windows Phone 7 units since the system launched in November. But Microsoft scored a major coup last week when Nokia -- the world's bestselling phone maker -- announced plans to drop its own software efforts and make Windows Phone 7 its primary platform.
Also during Monday's presentation, Microsoft announced that Internet Explorer 9 will soon be available on Windows Phone 7 devices. That will allow for the same graphics hardware acceleration that's available on the beta version of IE9 for PCs, leading to faster graphics and the ability to stream HD video and still have enough memory to perform other tasks.
That demo and others, however, were all virtual. The wireless Internet powering MWC 2011 was extremely overloaded during the presentation, preventing Microsoft from demoing many of the features it was attempting to show off.
The irony of a major wireless confab lacking Wi-Fi wasn't lost on attendees, who still managed to eke out enough connectivity to fill Twitter with gripes about the problem.