Madoff: Banks 'had to know' about scheme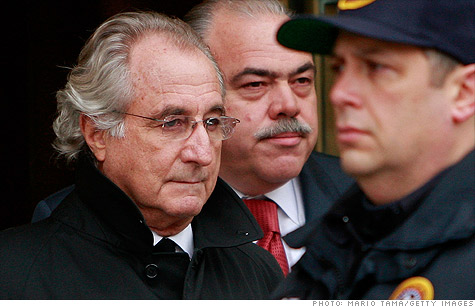 NEW YORK (CNNMoney) -- Convicted Ponzi schemer Bernard Madoff, in a jailhouse interview published Wednesday, said banks and hedge funds were "complicit" in his multi-billion dollar fraud.
"They had to know," Madoff told New York Times reporter Diana B. Henriques, who is working on a book about the case. "But the attitude was sort of, 'If you're doing something wrong, we don't want to know.' "
Madoff, serving a 150-year prison term in Butner, N.C., did not specify which banks or funds might have known about the scheme, and he didn't say that any of them were accomplices to his scheme.
The Times said that Madoff, in the interview and in e-mails sent to the reporter, claims to have been helping the legal team of Irving Picard, the trustee seeking to recover assets stolen from investors.
Picard, who rarely answers requests for comment, issued a statement through his chief counsel Wednesday saying only that he and Madoff have not met directly. The statement did not address whether Madoff met with other members of Picard's legal team.
"At no time did any meeting between the two take place and there has been no direct communication between them at any time," attorney David J. Sheehan said in the statement. Sheehan said there would be no additional comment.
A source who spoke to Madoff in the past few days, and has been in touch with him since he went to prison, told CNN that Madoff is encouraged Picard has already been able to recover about 50 cents on the dollar.
"He's rooting for Picard," said the source. "He wants to get the money back for these people."
Madoff also asserted in the Times interview that New York Mets owner Fred Wilpon and his business partner, Saul Katz, knew nothing about the scheme.
Picard has filed suits seeking repayment from several investors, including Wilpon and Katz, as well as JPMorgan Chase (JPM, Fortune 500), saying they took profits from Madoff in the years leading up to the 2008 revelation of the scheme. The Mets owners and the bank have denied any wrongdoing.
Madoff said in the interview that Picard should be able to recover enough assets from banks and hedge funds without suing individual investors who might have gained money from him.
In an e-mail cited by the Times, Madoff said that his clients made more from investing with him than they would have made elsewhere. "I would have loved for them to not lose anything, but that was a risk they were well aware of by investing in the market," he wrote.
Madoff denied that he refused to attend the funeral of his son, Mark, who committed suicide in December. Madoff told the paper that prison officials would not approve the request because of a "public safety issue" and the limited time available to make arrangements.
In an e-mail sent Dec. 29, Madoff said his attendance "would be a media circus" and "would be cruel to his family."
The CNN source who spoke with Madoff in the last few days says the suicide of his son was "a real blow....a life-altering experience" that has deeply affected him.
-- CNN senior correspondent Allan Chernoff contributed to this report