Surprise! Obama, GOP agree on these cuts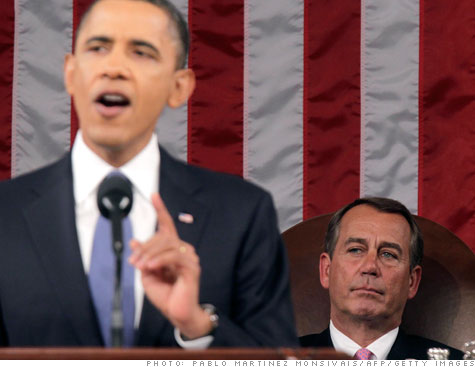 NEW YORK (CNNMoney) -- Both President Obama and Congressional Republicans proposed spending cuts this week. Both said their plan will put the nation on a path to fiscal stability. And both say the other side's plan is irresponsible.
But amid all the rhetorical denunciations, there are actually a few things the plans have in common. Not enough to make a difference, but a few.
The proposals involved tap into one small part of the budget -- non-security discretionary spending -- for the biggest spending reductions. That slice of the budget accounts for around 12% of total spending, but is responsible for many popular government activities.
President Obama's 2012 budget would freeze non-security discretionary spending for five years. And because Obama wants to spend more on certain programs within that portion of the budget, he has to slash funding for hundreds of others.
The Republican plan would cut at least $61 billion in the final seven months of fiscal year 2011, which is a far steeper reduction than Obama wants in fiscal year 2012.
Wait. We agree on something?
Drill down further into the plans, though, and you'll find a smattering of specific programs that both sides want to cut.
President Obama and House Republicans both propose to reduce funding for a program that helps low-income people pay their energy bills during periods of extreme heat or cold.
Both would allocate less money for community services block grants, the Great Lakes Restoration Initiative, the National Drug Intelligence Center and low-priority Army Corps of Engineers construction projects.
Also on the chopping block are a slew of minor earmark-like programs such as the Christopher Columbus Fellowship Foundation, the Harry S. Truman Scholarship Foundation, and unrequested local health projects in Alaska and Mississippi.
There is even broad agreement to cut a couple of Pentagon programs. Both sides want to eliminate a mobile missile system that has proven ineffective.
And in a bipartisan vote Wednesday, the House okayed an amendment to strip $450 million slated to build a new engine for the F-35 fighter jet that the Pentagon says it doesn't need.
But these examples don't add up to the kind of savings either side is seeking. They account for only a few billion dollars, and that's where the rub is.
The big picture
Even if the cuts are made in the House this week, there's more budget angst coming. The next battle on the horizon will pit House Republicans and their massive cuts for the rest of fiscal year 2011 against a Democratic Senate, as well as a president who has already threatened to veto the bill.
If Congress isn't able to hammer out a plan, the government will be forced to shut down on March 4, when the current spending bill expires. That means a lot of horse-trading has to happen in the next two weeks.
Only after 2011 is resolved will Congress turn its attention to the 2012 fiscal budget. Republicans have promised to present their own plan for 2012 after the Congressional Budget Office offers its analysis of the president's budget request.
They have also said in recent days they will address entitlement reform, on which the White House also signaled a willingness to discuss.