Hyper-caffeinated coffee prices hit 14-year high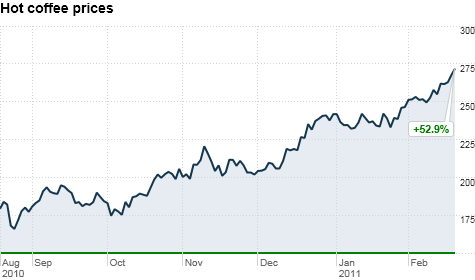 NEW YORK (CNNMoney) -- Coffee prices hit a 14-year high this week, and it's only a matter of time before java lovers will have to pay more in stores and coffee shops.
Coffee futures have doubled in the last year, closing at $2.46 per pound on Thursday. That's the highest price since May 1997, when coffee was trading at $3.20 per pound.
"It is sad but true that higher coffee prices will be passed off to the consumer," said Hector Galvan, a senior trader at RJO Futures. "Some imagine this just as inflation, but it is a combination of the growing demand for different types of coffee and the poor harvests we have had in past years."
Starbucks (SBUX, Fortune 500) has already increased prices. J.M. Smucker, which owns Dunkin' Donuts and Folgers, has also had to raise prices several times to cope with the rising bean prices. Earlier this month, Smucker said it would once again hike prices, by an average 10%.
"Roasters are already passing on some these rises and further rises appear inevitable," said Jose Sette, executive director of International Coffee Organization.
Starbucks, Smucker and Green Mountain Coffee Roasters (GMCR) did not respond to CNNMoney's request for comment. But for analysts, it's pretty easy to see where this is going.
"When you combine the demand and speculation that harvests will continue to be poor, it's not difficult to imagine where prices will be in the next couple of years," said Galvan.
The vast majority of coffee consumed in the U.S. is imported. Hawaii is the only coffee-producing state and cannot supply enough to meet the nation's needs.
The dependence upon coffee as an import has haunted Americans for centuries. During the Civil War, Union blockades forced Southerners to drink chicory instead of the real thing, a poor substitute considering that Americans were just as coffee crazy back then as they are now. But the habit stuck, so many Southerners still cut their coffee with chicory.
Galvan said the U.S. is particularly dependant upon Brazil to come up with bumper crops for coffee, but harvests have been weak in other coffee-producing nations, like Mexico, Kenya and Colombia.
Sette said that Colombia, one of the leading coffee producers, has suffered its third consecutive "disappointing" crop, which is one of the biggest factors in driving up prices.
He said that other coffee-producing nations do not have the ability to offset the slump from Colombia and Brazil.