Why stock exchanges have merger fever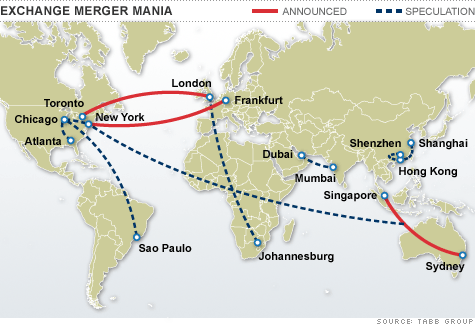 NEW YORK (CNNMoney) -- The announced merger between NYSE Euronext (NYX, Fortune 500) and Deutsche Boerse announced this week is just the start of more mergers to come, say experts.
The consolidation among the world's major exchanges is not a new story by any means. Exchanges face growing pressure to provide faster execution of trades, and access to more markets and more products.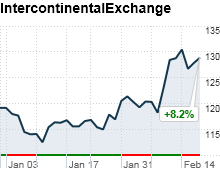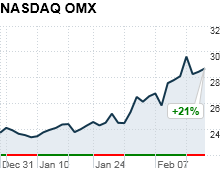 Over the past five years, the New York Stock Exchange bought Euronext, the Nasdaq merged with the OMX Group and the Chicago Mercantile Exchange merged with Chicago Board of Trade, which then bought the New York and Chicago Mercantile Exchanges in 2008.
But with a big deal like NYSE-Deutsche Boerse, the appetite for big exchanges to do big deals is accelerating.
"The way this market works is simple: if you're not in the top tier or in the second tier of exchanges, you're finished," said Larry Tabb, CEO of the TABB Group, a financial research firm that focuses on exchanges and other capital markets.
While several exchanges internationally have announced mergers -- Toronto, Moscow, Singapore, Sydney and London to name a few -- for U.S. investors the focus on the fates of New York-based Nasdaq OMX Group (NDAQ) and Atlanta-based IntercontinentalExchange (ICE).
Shares of the Nasdaq and IntercontinentalExchange have risen sharply this year on speculation that both could be takeover targets.
"The Nasdaq needs to get bigger quickly if they want to be a dominant U.S. exchange business," said Richard Repetto, an analyst who covers the exchanges for Sandler O'Neill.
Like the NYSE, the Nasdaq is heavily reliant on traditional stock trading, a mature business that has faced stiff competition from the non-traditional exchanges in recent years. Last year, Nasdaq had a 24% share of all U.S.-based stock trading, according to the TABB Group. That's down from the 36% market share it had just two years ealier.
Analysts suspect the Nasdaq will announce some sort of sale or merger in the coming months. Topping the list of interested partners are the London Stock Exchange or the Australian-Singapore Stock Exchange. A merger with Nasdaq would give those foreign exchanges access to U.S. markets.
"When you buy Nasdaq you're buying the legacy stock trading business," said Rafay Khalid, equity analyst at Standard & Poor's.
Intercontinental, better known as the ICE, is in a stronger position to be an acquirer. The ICE deals primarily in the trading of options and futures, a growing and much higher-margin business.
Keefe, Bruyette and & Wood's analyst Niamh Alexander wrote in a client note that ICE and Nasdaq could be suitable partners because of their complementary businesses, but he doesn't expect a deal until next year. Another U.S. property the ICE may look at is the CBOE Holdings (CBOE), which has a similar business in options and futures as well.
The biggest U.S. exchange likely to sit out this round of consolidation is the CME Group, analysts said. CME Group CEO Terry Duffy recently said that his company was focused on its primary businesses -- options, futures and derivatives -- and was not interested in purchasing a traditional stock exchange like the Nasdaq.
Exchange mergers around the world
In the past three months alone, the London Stock Exchange announced a merger with Canada's TMX Group, the owner of the Toronto Stock Exchange; the two Russian exchanges -- MICEX and RTS - hooked up; and late last year Singapore offered to buy out the Australian Securities Exchange for $7.8 billion.
Analysts said they expect large international exchanges such as Hong Kong Exchanges and Clearing to be actively seeking acquisition targets in all corners of the world.
The obvious hurdle for most of proposed and speculated mergers is politics and regulation. The first rounds of consolidation between exchanges several years ago got little resistance from regulators because they were small to begin with.
Singapore has faced stiff resistance from Australian lawmakers over its proposed tie-up. In the U.S., politicians are already expressing concerns about Germany's Deutsche Boerse owning a 60% stake in the iconic New York Stock Exchange.
"Germany is a strong U.S. ally and even with that in mind it's been difficult for Americans to accept a scenario where the Germans own the New York Stock Exchange," Tabb said. "A Hong Kong-Nasdaq merger would make sense from a business standpoint, but it would never get past the 'China buying U.S.' politics."