Cashing in on the smartphone craze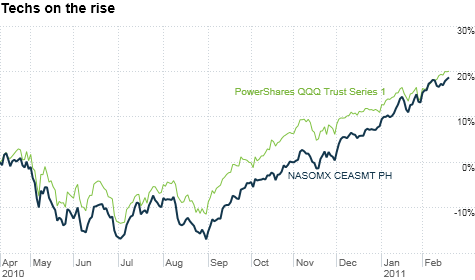 NEW YORK (CNNMoney) -- Love ETFs? Love your smartphone? Well break out your iPhone, Droid or BlackBerry. Starting today, you can buy a smartphone ETF.
First Trust Portfolio launched the new ETF on Friday under the ticker FONE (FONE). It lists Samsung, Motorola Mobility (MMI) and Nokia among its major holdings. And experts are giving it a thumbs up.
"It's not heavily invested in just a few stocks," said Tom Lydon, president of Global Trends Investments and editor of ETFTrends.com. "It's pretty broadly diversified."
About a quarter of the ETF includes semiconductors, with another 23% dominated by communications equipment.
But the rest is spread out pretty well among electronic equipment, wireless services and others. And some of the bigger names aren't included among the top 10.
There's no Apple (AAPL, Fortune 500), AT&T (T, Fortune 500), Verizon (VZ, Fortune 500) or Google (GOOG, Fortune 500) among the ETF's top 10 holdings, which Lydon says "bodes well for how this index was constructed." But those names are part of both the index and the ETF, which have a total of 72 components.
The smartphone ETF is clearly a niche-y product. It's unlikely that big institutional investors will snap it up. But that might be exactly what retail investors are hungering for.
"Some of these companies are huge," said Rick Ferri, investment adviser at Portfolio Solutions. "You're not getting a really pure play on smartphones."
The ETF comes less than a year after Nasdaq launched the NasdaqOMX CEA Smartphone Index (QFON). Since its debut in April 2010, the index has gained more than 19%.
Still, it's worth noting that this is roughly in line with how the PowerShares QQQ (QQQQ) ETF, which tracks the Nasdaq-100 and holds many of the same stocks, has done.
So investors don't necessarily need to buy the FONE ETF to cash in on the mobile craze.