House OKs $60 billion in budget cuts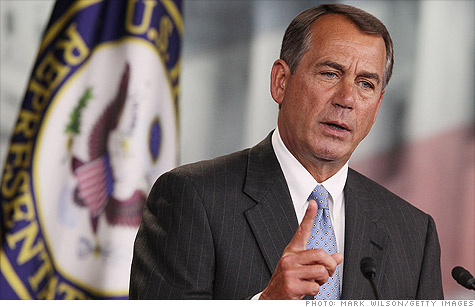 WASHINGTON (CNNMoney) -- The Republican-controlled House early Saturday approved more than $60 billion in cuts in federal spending for the current fiscal year, less than two weeks before a deadline to fund the government.
The House vote, completed just after 4:40 a.m. ET, was 235-189. All 186 Democrats voting were against the bill, and they were joined by 3 Republicans.
But all of the cuts are unlikely to be included in the final spending plan for the final seven months of fiscal 2011. Democrats control the Senate, where the House measure heads next, and the Obama administration has indicated it would veto any measure containing all of the House cuts.
The four days of debate on spending was part of the Republicans' vow -- which they believe was part of the November election mandate that gave them control of the House -- to bring government budget deficits under control.
"When we say we are going to cut spending, read my lips: We are going to cut spending," said House Speaker John Boehner on Thursday.
He added that the House wouldn't pass a budget that doesn't cut spending, fueling new speculation of a possible government shutdown if the Senate and House can't reach a compromise by the time current stop-gap funding measures run out March 4.
Late Friday, House Minority Leader Nancy Pelosi of California announced that Democrats would introduce another short-term extension of funding at 2010 levels through March 31.
"I am hopeful Republican leaders will agree to a short term extension of the freeze as we work to pass a bill the President can sign into law for the remainder of 2011," Pelosi said in a statement.
But Senate Minority Leader Mitch McConnell of Kentucky quickly dashed any idea of a quick resolution. "Americans have been clear: freezing in place the current unsustainable spending levels is simply unacceptable," he said in response to Pelosi.
The Republican vow to cull $60 billion from the fiscal 2011 budget is their first big opportunity to make good on campaign promises to rid Washington of mounting deficits and government spending.
Among the items approved Friday, lawmakers approved amendments that would block all federal funding for Planned Parenthood, bar any federal agency from spending money on implementing the new health care law, and limit the activities of the Environmental Protection Agency.
A bid by a group of the most conservative House members to cut an additional $22 billion failed Friday after encountering opposition from moderate Republicans and Democrats.
But, since debate began Tuesday, the Republican majority has passed cuts affecting programs they have traditionally opposed. These include millions in dollars of funding for the arts, heating subsidies for poor households, financial services regulation and Internet regulation.
One of the largest additional budget cuts happened Wednesday, when lawmakers of both parties agreed to an amendment stripping $450 million slated to build a new engine for the F-35 fighter jet.
Lawmakers also voted to avert some major cuts. They agreed to restore funding that would keep some firefighters and police officers on the payroll through September, despite an $800 million tab for both.
The House also voted to protect $450 million slated for Amtrak train service, as well as another $200 million in financial help for struggling nations abroad.
Democrats were hopeful of restoring much of the funding for favored projects when the Senate considers the budget resolution.
Although the 2011 budget up for debate only covers the next seven months, March through September, the clock is ticking to pass something soon. The current stop-gap measure that's keeping the lights on at federal agencies expires March 4.
If lawmakers fail to pass a budget -- or at least another stop-gap measure -- by March 4, the federal government could be shut down like it was during the GOP showdown with the Clinton administration in 1995.
With both houses in recess next week, the Senate won't be able to take up the measure until Feb. 28 -- after the traditional reading of George Washington's farewell address. Then the chambers will likely have to negotiate the differences and come to a compromise -- a lot to do in five days, unless some agreement is reached on an extension.
The White House has vowed to veto the budget if it contains the deep cuts that House Republicans are proposing.
Earlier this week, Boehner raised eyebrows when he predicted budget cuts could cost some federal jobs, adding, "so be it."
However, on Thursday, he backed off the tough love stance.
"Listen, I don't want anyone to lose their job whether they are a federal employee or not. But come on! We're broke!," Boehner said. "We've got to make tough decisions and the American people sent their representatives here to Washington to make tough decisions on their behalf.
-- CNN producer Deirdre Walsh contributed to this report.