U.S. oil prices don't matter at the pump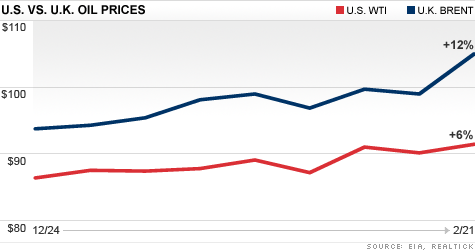 NEW YORK (CNNMoney) -- U.S. oil prices remain relatively low compared to the rest of the world, but that doesn't mean American motorists are getting a break at the gas station.
Gasoline prices in the United States have jumped 5 cents in just a week, according to AAA.
The gasoline Americans buy is made not just with U.S. supplies but mainly with oil from around the globe, and that fuel is surging in price.
Since a protester lit himself on fire in Tunisia at the end of December, sparking revolts across North Africa and the Middle East, global oil prices have jumped. Brent crude, pegged to oil prices in the North Sea, is up over 12%.
Meanwhile New York Mercantile Exchange prices have risen 6%, with most of that coming on Monday.
The 39 different oil contracts tracked globally by the U.S. Energy Information Administration are up almost 8% from the end of December until February 11, the most recent survey date.
"NYMEX is an artificial marker," said Stephen Schork, publisher of the industry newsletter the Schork Report. "It bears no resemblance to global fundamentals."
The benchmark NYMEX oil contract -- the one quoted in most media reports -- is known as West Texas Intermediate.
WTI is pegged to the price of oil in Cushing, Okla., a small town in the northeast of the state that's home to the junction of several oil pipelines and dozens of tank farms.
In Cushing, there's currently an oversupply of crude.
Oil production from Canada's oil sands and North Dakota's Bakken shale formations has surged. Most of this oil is sent to Cushing.
But pipelines out of Cushing to refineries along the Gulf Coast can't handle all the excess oil.
"What is needed is a way to get oil out," Adam Sieminski, chief energy economist at Deutsche Bank, wrote in a recent research note.
Adding to the glut, refineries in the area have been down for maintenance, and the cheap price is giving traders an incentive to store even more oil in Cushing, hoping prices will rise and they can sell it at a profit in the future.
New pipelines are in the works, but they will take many months, if not years to build.
Plus, West Texas Intermediate is just a tiny percentage of all oil traded globally, and much of it is used in the Midwest.
In the Northeast, a gallon of gas may not contain a single drop of WTI oil, said Schork.
Although "U.S. oil prices" generally mean WTI prices, in reality there are many U.S. oil prices. Many of these other contracts have risen in lockstep with world prices, pushing gasoline prices higher.
Spot prices for Louisiana Light Sweet, a contract pegged to oil in St. James, La., closed Friday at over $105 a barrel. Spot prices for WTI, on the other hand, are around $90 a barrel.
WTI prices are about $10 below prices globally, said Tom Kloza, chief oil analyst at the Oil Price Information Service. Gas prices, he said, are about 25 cents a gallon higher than where the WTI price suggests they should be.
"It's a broken benchmark," said Kloza. "Pay no attention to the WTI price when you wake up in the morning."