Madoff trustee sues SEC lawyer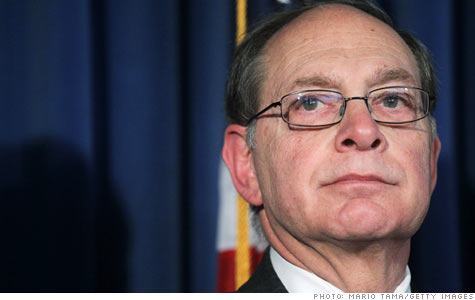 NEW YORK (CNNMoney) -- The court-appointed trustee in the Bernard Madoff case has sued the outgoing top lawyer at the Securities and Exchange Commission for allegedly profiting off the largest Ponzi scheme in history.
The trustee, Irving Picard of Baker & Hostetler, filed a $1.5 million clawback lawsuit against David Becker of the SEC and his two brothers -- heirs to the estate of their mother, Dorothy Becker.
The Beckers received more than $2 million from Madoff's firm between 2002 and 2008, or $1.5 million more than they invested, according to a legal document filed in federal bankruptcy court in Manhattan.
"The trustee's investigation has revealed that $1,544,494 of this amount was fictitious profit from the Ponzi scheme," said the document. "Accordingly, defendants have received $1,544,494 of other people's money."
SEC spokesman John Nester said that Becker, general counsel and senior policy director for the SEC, was named in the lawsuit last week.
"[Becker] was not involved in his parents' financial affairs and has no recollection of his parents' involvement in Madoff," said Nester, noting that his mother died in 2004 and his father died in 2000.
Nester said that Becker was named after the SEC announced, on Feb. 11, that he was completing his two-year commitment with the SEC at the end of the month "to return to the private sector." He also worked at the SEC between 1998 and 2002.
The trustee has sued at least 400 investors, including the Beckers, for allegedly profiting from Madoff's scheme.
But many of the investors sued by Picard claim that they didn't know they were participating in a Ponzi scheme. In fact, hundreds of these investors had filed claims with the trustee for having lost money to Madoff's firm, which was really just a front for a Ponzi scheme.
The trustee has also sued the owners of the New York Mets, JPMorgan and UBS. The trustee and federal authorities settled with the biggest beneficiary of the scheme -- Barbara Picower, widow of Jeffry Picower -- for $7.2 billion.
Madoff was arrested on Dec. 11, 2008, on multiple federal fraud charges for running a long-running pyramid scheme that swept up thousands of victims in its broad net. Madoff pleaded guilty in March, 2009 and is serving a 150-year sentence in a federal prison in Butner, N.C.
The scheme continued for decades. Madoff lured investors and cheated them out of their money to pay for his affluent lifestyle, which included homes in Manhattan, the Hamptons, Florida and France, as well as a yacht and diamond-studded jewelry. He lulled the victims into a false sense of security with fraudulent financial statements and payments from fresh investors, which he falsely presented as returns.