Gas prices: Brace for another surge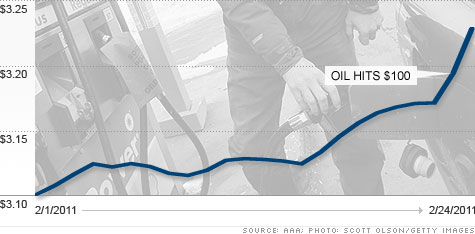 NEW YORK (CNNMoney) -- Gas prices are up nearly 6 cents this week and analysts say this is just the beginning, as oil prices soar on political strife in North Africa and the Middle East.
"We've got another 10 to 15 cents of catching up to do in the next few days," said Tom Kloza, chief oil analyst at the Oil Price Information Service, which compiles gas prices data for motorist group AAA.
The national average price of a gallon of gasoline rose 3.4 cents overnight to $3.228, according to AAA. Gas prices have jumped 4.2% from the start of February and Kloza said the national average could hit $3.35 a gallon as early as this weekend.
Drivers in Hawaii are paying the most, at an average of $3.75 a gallon. And according to gas tracker gasbuddy.com, some gas stations in Los Angeles and San Diego were already charging more than $4 a gallon on Thursday.
The increase comes as prices for crude oil, the main ingredient in gasoline, have spiked on the political upheaval roiling North Africa and the Middle East.
The benchmark U.S. oil price hit $100 a barrel on Wednesday, and was holding near that level on Thursday. Brent crude, the main oil contract in Europe, rose to a high above $118 a barrel on Thursday.
That could spell even higher gas prices for drivers in the United States.
For every $1 increase in the price of oil, you can typically expect a corresponding 2.5 cent increase in the price of gas, according Moody's Analytics economist Chris Lafakis.
Oil prices have already jumped $12 this week, which means that drivers can "expect gas prices to be 37 cents higher" in the coming days, he said.
The rise in gas prices could have severe consequences for the U.S. economy, which has rebounded from the recession of 2008-2009 but remains relatively fragile.
A 10% increase in oil prices would cost U.S. consumers some $40 billion a year, said Julian Jessop, an economist at Capital Economics. That's the equivalent of a 0.4% reduction in real incomes.
But Jessop warned that generalizations about the relationship between rising oil prices and economic growth have proven unreliable in the past. Much depends on how widespread the turmoil in the Middle East region becomes, and how long it lasts, he said.
Jessop expects oil prices to ease later in the year, and while global economic growth will be moderate, it should be enough to sustain a gradual rise in energy prices.
"We do not expect the oil price to be pivotal," he said.
Other economists disagree.
Mark Zupan, an economist at the University of Rochester's school of business, said that every economic downturn over the last 40 years has been caused by upward spikes in oil prices.
In 2001, a pact by key oil producing countries to cut output by 1% drove prices up to $30 a barrel from $12 a barrel, he said.
Libya, where unrest has severely curtailed production this week, contributes 2% of the world's oil. While that's small in comparison to Saudi Arabia and Russia but it's not insignificant.
"If you had to identify a culprit for a double dip recession, this would be it," he said.
Lafakis said that, in general, every $1 increase in the price of oil costs consumers $1 billion over the course of a year. That means if prices average out at $90 a barrel in 2011, the money that consumers would get as a result of the payroll tax holiday enacted late last year would be cut by 25%.
Last year, oil prices averaged $79.61 a barrel. So far this year, prices are averaging about $89 a barrel.
While a sustained spike in energy prices is definitely a "threat" to the economic recovery, "we should be able to skirt a second recession or significant slow down," said Lafakis.
Still, if the national average gas price were to rise to $4 a gallon "the risks become much more elevated," he said. If gas were to hit $5 a gallon, which he said is unlikely, the economy could slip back into recession.
"It's difficult to pinpoint the level at which we tank," Lafakis said. "But I don't think $4 a gallon will break the economy."
As many drivers will remember, gas prices rose above $4 a gallon in July 2008. At that time, oil prices were also shooting higher based on strong global energy demand and tight supplies of crude.
However, oil and gas prices fell sharply later that year as the recession took hold. Consumers cut back on unnecessary driving and switched from gas guzzling SUVs to fuel efficient cars.