Oil prices spike to $103, then drop back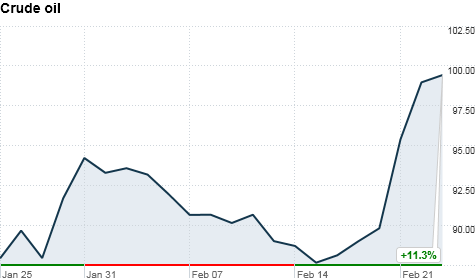 NEW YORK (CNNMoney) -- Oil prices took a slight step back Thursday, but crude has seen a large runup this week as the political upheaval in Libya curtails production from the North African country.
The U.S. benchmark oil contract, West Texas Intermediate, for April delivery fell 82 cents, or 0.8%, to settle at $97.28 a barrel. Prices hit a high of $103 a barrel earlier in the session. Just last week, crude prices were trading below $90 a barrel.
Brent crude, the European standard, fell 44 cents, or 0.5%, to $110.76 a barrel in electronic trading.
Oil prices rose above $100 a barrel Wednesday for the first time since October 2008, before retreating to end its active trading session at $98.10 a barrel.
"Traders were concerned about events in Libya, which seem to have gone from bad to worse," said analysts at Cameron Hanover, a firm that specializes in energy price risk management, in a report. "Foreign oil companies operating in Libya evacuated workers, and some were reportedly suspending operations."
While Libya is Africa's third-largest oil producer and sits atop the continent's largest reserves, the country only contributes about 2% of the 87.5 million barrels of oil the world consumers every day.
"It should be noted that Libya has good quality crude oil and that is one of the reasons that oil market participants are getting very cautious about the political unrest in the country and the oil disruption issues," said Myrto Sokou, an analyst at Sucden Financial, in a client note.
As the unrest entered its 10th day, opponents of Libyan leader Moammar Gadhafi have taken control of the country's second and third-largest cities. But Libya's capital, Tripoli, remains tense following violent protests that have left hundreds dead, according to estimates.
Italian oil giant Eni (E), the largest foreign oil company in Libya, and Spain's Repsol said Wednesday that it had suspended some of its production operations in Libya.
Other firms reportedly suspending production in Libya include Germany's Wintershall, part of BASF, Austria's OMV and France's Total (TOT). The largest oil firm in the country is the Libyan government-run National Oil Corporation.
BP (BP) and Chevron (CVX, Fortune 500) said earlier this week that they were evacuating most of their employees in Libya.
The unrest in Libya follows an uprising in Egypt, where anti-government protesters withstood a violent crackdown and toppled the long-standing regime of Hosni Mubarak earlier this month. The movement was inspired by similar events in Tunisia earlier this year.
Some analysts say Algeria, Libya's neighbor to the east, could be the next domino in the chain. If supply is halted from both countries, oil prices could soar above $220 a barrel, said analysts at Nomura Securities.
Nomura estimates that 3.1 million barrels of oil per day would be taken off the world market if both Libya and Algeria ceased production, according to a research report.
That would cut spare capacity, the amount of oil members of the Organization of the Petroleum Exporting Countries have in reserve, to 2.1 million barrels per day from its current 5.2 million barrels per day.
OPEC spare capacity fell to similar levels during the Gulf War and in 2008, when oil prices rose to an all-time high of $147 a barrel as energy demand outpaced supply.
Given that global demand remains robust, such a supply shock could drive prices to $220 a barrel, or higher, according to Nomura.
"We could be underestimating this as speculative activities were largely not present in 1990-91," the report reads.
OPEC has said that it's willing to pump more oil to make up for any shortfalls related to Libya. Early Thursday, the Financial Times reported that Saudi Arabia, the cartel's leader, is in "active talks" with European oil companies over how much additional oil is needed.
Oil prices have also been propped higher by concerns that other major oil exporting nations in the Middle East could be shaken by political unrest.
Protests have roiled the small island nation of Bahrain, which has raised fears that neighboring Saudi Arabia could be vulnerable. In addition, traders are concerned that the amount of spare oil in global reserves may not be enough to offset widespread supply disruptions in the region.
Meanwhile, the government's weekly oil inventory report showed showed a smaller-than-expected increase in U.S. stockpiles of crude.
The report said crude supplies increased 800,000 barrels in the week ended Feb. 18. Analysts were expecting an increase of 1.4 million billion barrels, according to research firm Platts.
Gasoline supplies fell 2.8 million barrels, while distillates used to make jet fuel and other products, dropped 1.3 million barrels in the week.
Analysts were expecting both gas and distillate supplies to have risen.
-- The CNN Wire Service contributed to this report.