Swiss government freezes Gadhafi's assets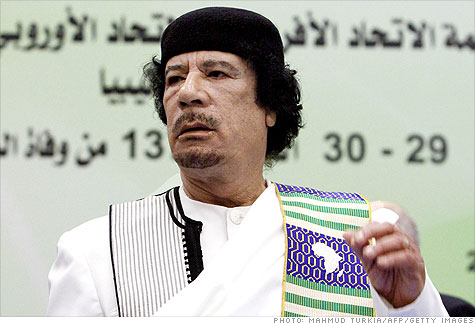 NEW YORK (CNNMoney) -- Switzerland's government has moved to freeze any assets in the country's banks that might belong to Libyan leader Moammar Gadhafi, the Swiss Federal Department of Foreign Affairs said Thursday.
"The Federal Council [Bundesrat] has decided to freeze any assets of Moammar Gaddafi and those surrounding him, in Switzerland, with immediate effect," the Swiss Federal Department of Foreign Affairs said in a statement.
The move comes after ten days of protests that have lost Gadhafi control of eastern Libya and led prominent members of his own government to defect and join demonstrations.
Gadhafi has shown no signs that he's ready to give up the post he has held for 42 years.
It was not immediately clear what assets, if any, Gadhafi keeps in Switzerland.
For the Swiss government, it's a case of deja vu, as the country moved earlier this month to freeze the assets of Egyptian President Hosni Mubarak and his family, following protests in that country that led to his resignation.
The Swiss banking system is known for its secrecy. But in recent years, the banks have made concessions in the interest of providing more transparency.