Here's your iPhone. Want service with that?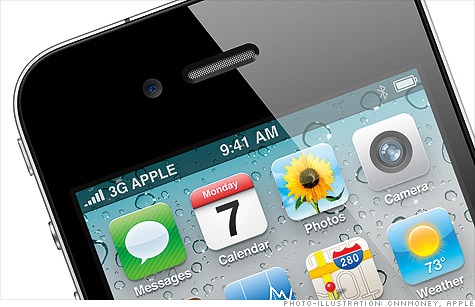 NEW YORK (CNNMoney) -- What if you could buy your iPhone and wireless service directly from Apple, without having to sign a contract with AT&T or Verizon? Imagine going to Google.com and buying an Android phone that comes with Google Wireless.
That day may come sooner than you think.
LightSquared, a wholesale 4G carrier, recently announced that it has five partners lined up, including a website, a national retailer, a device manufacturer, and two carriers. LightSquared's LTE mobile broadband network will provide the infrastructure and service, and partner companies will slap their branding on it and sell it as their own wireless service. The network is set to start rolling out later this year.
The company didn't name its partners, but speculation has run rampant. Is Amazon (AMZN, Fortune 500) Wireless coming down the pike? Motorola (MMI) Wireless? Target (TGT, Fortune 500) Wireless?
Whoever the partners turn out to be, LightSquared has the potential to shake up the current wireless service market. In the near future, you could buy a smartphone with service directly from the phone's manufacturer or the store that sold it to you.
That wholesale model promises some big benefits. For consumers, it means you would no longer have to covet a device that exists on a network that you don't want to switch to. For retailers, it's a way to have a recurring relationship with consumers and make a few extra bucks by selling an additional service.
Who loses? Existing carriers. Wireless service could easily become a commodity: Just like you don't know whose bananas you're buying at the grocery store, one day you may not know who is providing your cell service.
There are wide-ranging implications of that, including the titillating potential for your cell phone to automatically choose the cheapest service available every time you made a call. Wouldn't that be something?
But don't feel too bad for the wireless carriers -- their business model is being shaken up no matter what happens. The huge spike in mobile data means networks are spending $50 billion annually just to keep up. Smaller wireless companies like Sprint (S, Fortune 500), T-Mobile and MetroPCS (PCS) are starting to ask themselves whether all that spending is worth it.
"If you're not AT&T or Verizon, you're wondering if you can afford to build out a nationwide network and compete with the leaders anymore," said Dan Hays, a partner at consultancy PRTM who focuses on telecom issues. "Simply being a network owner may no longer be enough to sustain you."
In other words, the sea change is already underway.
Sprint sold off its network infrastructure in July 2009 to be managed by Ericsson, and Comcast (CMCSA, Fortune 500), Best Buy (BBY, Fortune 500) and Time Warner Cable (TWC, Fortune 500) are already selling Sprint's Clearwire 4G service under their own brands.
T-Mobile said last month that it is mulling a sale off its cell towers as well. And low-cost wireless carriers like Cricket, Boost and TracFone are already using a quasi-wholesale model -- they're either borrowing space on competitors' network infrastructure or are owned outright by larger wireless companies.
Seeing the handwriting on the wall, LightSquared is hoping to capitalize.
"We are deploying the most advanced network while offering service at a lower price, because as a pure wholesaler, we will we will not have retail overhead," LightSquared CEO Sanjiv Ahuja said in a prepared statement this week after securing another round of funding.
The company raised $586 million, and it has now secured $2 billion in funding through debt and equity.
Of course, there's no reason to believe that wireless giants like Verizon (VZ, Fortune 500) and AT&T (T, Fortune 500) won't continue to fight the good fight and stay on top. And the premise of Apple selling wireless service raises the question, "Does Steve Jobs really want the finger pointed at him when Apple's service inevitably suffers glitches?"
But what LightSquared's announcement makes clear is even if it's not a plunge Apple (AAPL, Fortune 500) is looking to make, a number of other power players are poised to jump on the wholesale wireless bandwagon.