You're using more smartphone data than you think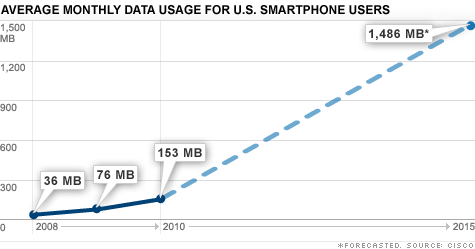 NEW YORK (CNNMoney) -- AT&T, Verizon, Sprint and T-Mobile are fighting a losing battle.
With costs of maintaining their networks flying through the roof, the nation's largest wireless carriers are attempting to limit the mobile Internet usage of their most download-happy customers through speed slowdowns, price tiering and by raising costs.
Yet Americans' mobile Internet usage is growing exponentially. Video, multimedia-heavy apps and other data hogs have even casual users sucking down more data than they realize.
"As the mobile Web continues to get better, people are using it more," said Todd Day, a wireless industry analyst with Frost & Sullivan.
Mobile video traffic, the greatest data hog of them all, nearly doubled in the last six months of 2010, Allot Communications' just-released Global MobileTrends Report found. Meanwhile, other data-hungry services like Skype grew about 87%, and Facebook grew 267%.
So it's no surprise that average monthly data usage for smartphone users has more than doubled in each of the past three years -- and it's expected to grow 10-fold over the next four years, according to a recently released study by Cisco (CSCO, Fortune 500).
To put the current state of the mobile Internet into perspective, total mobile data traffic in 2010 was three times the size of the entire Internet in 2000.
That means wireless companies' limits and slowdowns are beginning to look Draconian. Or, at best, naive.
In June 2010 -- when it scrapped its unlimited data offering and moved to a capped system -- AT&T (T, Fortune 500) said that 98% of its smartphone customers use less than 2 gigabytes per month of data, and 65% use less than 200 megabytes.
But that was six months ago. At the rate mobile Internet traffic has been expanding, June was practically the stone age.
The growing prevalence of mobile video is easily the biggest culprit for that rise, accounting for exactly half of mobile Internet traffic last year, Cisco said.
Average mobile Internet usage is already approaching the lowest-tier, 200 MB cap set by AT&T and T-Mobile. It's on track to close in on AT&T's highest-tier, 2 GB per month cap by 2015.
To consumers, all of this can get confusing in a hurry. As more shoppers look to buy smartphones each year -- the number of smartphones is expected to grow by a third to 117 million in North America this year, Frost & Sullivan forecasts -- they're wondering what those caps, price increases and limits mean for them.
Americans waste an average of $336 a year by miscalculating their usage estimates, according to a BillShrink.com study released this week. So if you're going to get a smartphone, you it pays to know what you'll be able to do with it each month and how much it's going to cost you.
What plan is right for you? Let's first take a look at what you can get with each plan.
T-Mobile and AT&T offer lower prices ($10 and $15, respectively) to customers who use less than 200 MB a month. But that won't get you too much: It's the equivalent of about 1,300 Web pages, 400 photo downloads, 60 songs, or 14 YouTube videos. Depending on the compression rate, you could use your entire monthly allotment on less than an hour of Netflix videos.
If you need more out of your smartphone each month than that, AT&T's 2 GB limit for $25 could be the plan for you: With that, you could download about 13,000 Web pages, 4,000 photos, 650 songs or 130 YouTube videos. That's also between six and 12 hours of Netflix viewing.
If you use even more than that, you'll probably want an unlimited plan, which Verizon, Sprint and T-Mobile still offer (though Verizon said it will soon discontinue unlimited data plans for the iPhone).
Verizon and T-Mobile charge $30 a month for that. Sprint doesn't break out its unlimited mobile Internet plan the same way as its competitors, but it forces its smartphone customers to pay $10 a month extra for their data plans.
If you're going with T-Mobile, however, you should know that the carrier will start slowing down the speeds of users who exceed 5 GB of data a month, which is a much harder threshold to hit. It's the equivalent of 33,000 Web pages -- or about seven full-length movie downloads.
Verizon also said it will throttle down speeds for heavy users, but it didn't set an exact usage limit where that kicks in.
How do you know what you'll use? If you're still not sure what plan is right for you, check your monthly wireless statement to see how much data you've been using, or ask your friends with smartphones to do the same.
An unscientific poll of the CNNMoney newsroom revealed that smartphone owners use a wide range of data -- even among owners of the same device.
One iPhone user downloaded just under 1 GB per month, but another downloaded 500 MB a month. One Motorola Droid user typically downloaded between 200 MB and 500 MB per month, but another used between 1 GB and 2 GB a month.
The heaviest data users tend to have Android devices, which run widgets that constantly update with data over the network. Android users download an average of 400 MB per month, and iPhone users are a close second with 375 MB per month, according to Frost & Sullivan. On the flip side, BlackBerry devices tend to download just 100 MB per month.
But even if you pin down exactly how much you can expect to use, there's another problem: It's changing fast.
Cisco's recent report showed that the top 1% of mobile data users account for 20% of all mobile traffic. But just one year ago, those data hogs were consuming 30%. The drop means that average users are downloading more and more.
So start scrutinizing your mobile data use patterns. With unlimited plans headed the way of the dodo bird, we're all going to have to get used to the idea that when data is downloading, the meter is running.