Shutdown: Washington gets ready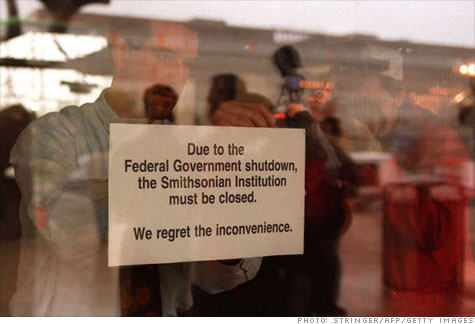 NEW YORK (CNNMoney) -- Washington has started getting ready for a possible government shutdown.
Behind the scenes, federal agencies are working on their plans for shutting down operations and deciding how many workers they need to perform essential operations.
Congress has one week -- until the end of March 4 -- to pass another short-term bill to fund federal agencies. If they fail, agencies are legally obligated to perform only essential activities necessary to protect life and property.
In other words, agencies have to move at warp speed to quickly wind down most operations. If they don't, they face legal ramifications for spending money they're not allowed to.
The government would keep essential services -- like air traffic control and the national security apparatus -- in full operating mode.
Each agency has its own shutdown plan. To prepare for next week, the agencies are updating their plans and submitting them to the White House's Office of Management and Budget.
Obama administration officials have declined to release those plans, which include details like how many employees are needed to perform essential functions, and how long it will take each agency to complete a shutdown.
The budget office maintains the agencies are prepared.
"OMB is prepared for any contingency as a matter of course -- and so are all the agencies," Kenneth Baer, OMB communications director, said earlier this week in a statement. "In fact, since 1980, all agencies have had to have a plan in case of a government shutdown, and they routinely update them."
Both Democratic and Republican leaders in Congress have said they want to avoid a shutdown.
But OMB is watching Congress. According to the guidance distributed to other federal agencies, OMB says it will monitor the status of congressional actions and notify agencies if shutdown plans are to be implemented.
The last time the federal government went dark was during the Clinton administration: five days in November 1995 and another 21 days ending in January 1996.
At the time, Sen. Dianne Feinstein asked the Government Accountability Office to prepare a report that detailed how many workers would be kept on the job.
Relying on each agency's shutdown plan, the GAO found that some agencies, like NASA, would furlough more than 90% of its employees. Meanwhile, the Justice Department would retain 75% of its staff.
Of course, 15 years have passed since the GAO studied the issue, and plans might look significantly different. And in practical terms, agencies are allowed some wiggle room in who they keep on the job.
During the Clinton-era shutdown, new Social Security claims weren't being processed because the Social Security Administration furloughed 61,415 employees. As the shutdown wore on, the agency adjusted its plan and recalled workers to start processing new claims.
Still, a lot of services provided by the government would go dark.
In the last major shutdown, the government closed 368 National Park Service sites, along with national museums and monuments, according to a Congressional Research Service report.
In addition, 200,000 passport applications went unprocessed, and toxic waste cleanup work at 609 sites stopped, according to the same report. The National Institutes of Health stopped accepting new clinical research patients, and services for veterans, including health care, were curtailed.