SEC casts wide net in private stock trading probe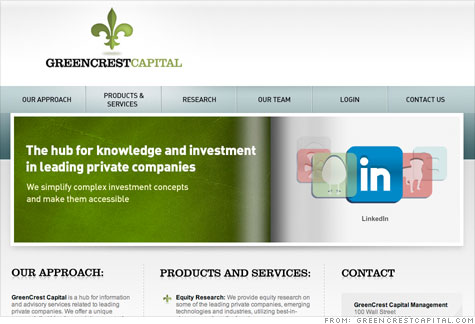 NEW YORK (CNNMoney) -- You can't buy shares of Facebook yet, but that hasn't stopped wealthy individuals and investment funds from snapping up its stock on rapidly growing exchanges like SecondMarket and SharesPost.
Now the SEC is taking a closer look at so-called "pre-IPO" trading in Facebook and other private companies to see if securities laws were broken. An ongoing investigation is probing not just the exchanges themselves, but also several red-hot social media companies and at least three investment funds that specialize in buying up their shares.
The firms under the microscope include EB Exchange Funds, Felix Investments and GreenCrest Capital, which have created investment pools that aim to buy up shares of hot ventures. A graphic on the front page of GreenCrest Capital's website hints at the kinds of investments it targets: Facebook. Twitter. Groupon. Zynga. Foursquare. Yelp.
Private investors have always been able to purchase equity in companies whose shares don't trade publicly -- that's how venture capitalists and angel investors operate. Those negotiations happen quietly, among parties that federal regulators regard as sophisticated investors.
But over the past year, the transaction volume has soared on eBay-like platforms that connect private-stock buyers and sellers. SecondMarket, the field's largest and most prominent pioneer, says investors spent $200 million on its exchange last year buying shares of Facebook alone.
That drew the attention of the SEC, which in late December sent a "voluntary request for information" to several industry participants, including SecondMarket.
Those information requests have morphed into a law-enforcement investigation, according to the SEC's response to a series of Freedom of Information Act requests filed by CNNMoney seeking details of the agency's communications with major players in the private-stock market.
The SEC denied all of the requests, citing a FOIA exemption known as 7(A). That exemption shields records compiled for a still-ongoing law enforcement investigation.
In addition to its communication with the three investment funds, the SEC shielded its records relating to SecondMarket and SharesPost, and to four of the tech world's hottest companies: Facebook, Zynga, Twitter and LinkedIn.
GreenCrest, Felix and EB Exchange did not respond to requests for comment. Facebook, Zynga and LinkedIn declined to comment.
A Twitter spokesman said, "We don't believe we're the subject of an investigation."
The two exchanges would not comment on the specifics of their communications with the SEC, but both said they keep the agency abreast of their general activities.
A SecondMarket spokeswoman said the company "is a registered broker-dealer, fully regulated by the SEC and FINRA."
In an e-mailed statement, SharesPost CEO Dave Weir said his company "does not comment on any specific confidential discussion with any third parties."
But Weir also noted that since SharesPost launched, it "has made efforts to keep the SEC's staff appraised of the evolution of its marketplace and we have made every effort to structure our activities to be compliant with previous staff guidance regarding those activities."
Private markets like SecondMarket and SharesPost are more lightly regulated than public exchanges like Nasdaq and the New York Stock Exchange. That's because "retail" investors -- your average mom-and-pop stock buyers -- can't shop on them. Only accredited investors, like investment funds and individuals with a net worth of at least $1 million, can participate.

The SEC assumes those wealthy buyers can take care of themselves, so it doesn't require the kind of financial disclosures public companies have to make. That's why Facebook has been able to keep its revenue numbers secret -- even from the investors who are sinking significant cash into shares of its stock.
A fast-changing market
In an ironic twist, the secondary market's success could be its downfall.
Investors eager to snap up shares of Silicon Valley's hotshots are fueling the private exchanges' growth and have bid the shares of some companies traded there up to dizzying heights. Recent investment rounds valued Facebook at $50 billion and Twitter at nearly $4 billion.
Those eye-popping valuations are luring gun-shy tech companies off the sidelines and back into the IPO fray. Within the past month, some of the private-stock market's prize ventures -- including Internet radio site Pandora and business networking site LinkedIn -- have filed paperwork to go public.
Even Facebook doesn't plan to stay private much longer. The company recently said it plans to begin filing public financial statements by April 2012. It's likely to IPO at that time, making the secondary exchanges' most sought-after shares available to any buyer with a brokerage account.
Which means the risky shadow market that took off in 2010 could fizzle out just as quickly as it exploded.