Oil prices retreat after spike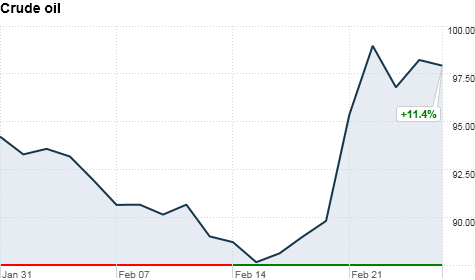 NEW YORK (CNNMoney) -- Oil prices eased Monday, retreating from recent highs, as investors continue to monitor the political movement in North African and the Middle East.
The benchmark U.S. oil contract, West Texas Intermediate, for April delivery fell 91 cents, or 0.9%, to settle at $96.97 a barrel.
Brent crude, the main European contract, was down 36 cents to $11.73 a barrel.
The oil market remains focused on the Middle East and North Africa, where popular uprisings have pushed out longstanding leaders in Egypt and Tunisia. In Libya, where protests against the rule of Moammar Gadhafi have entered a second week, the death toll has reached 1,000, based on an estimate from U.N. Secretary-General Ban Ki-moon.
U.S. oil prices surged above $100 a barrel last week, while prices in Europe hit a high of $120 a barrel -- levels not seen since 2008. The spike occurred as the unrest in Libya curbed production in the North African country, and investors worried that other oil-exporting nations could follow suit.
But the frenzied trading lost momentum late last week, with prices retreating Monday after the chief executive of Saudi Aramco, the state-owned oil company in Saudi Arabia, said Monday that "all incremental needs" for extra oil have been met, according to Reuters.
In addition, protestors in Libya are reportedly allowing oil shipments from certain parts of the country to resume. A tanker was expected to depart from the northeast corner of Libya carrying 700,000 barrels of oil Sunday night, the Wall Street Journal reported, citing an official from Arabian Gulf Oil Company.
Meanwhile, investors were also watching developments in Oman, where Sultan Qaboos bin Said ordered the hiring of 50,000 citizens in the aftermath of weekend protests that left at least one person dead and 11 others injured, according to state-run media.
Oman, located on the southeast coast of the Arabian Peninsula, is bordered by Yemen, Saudi Arabia and the United Arab Emirates. The sultanate exported about 860,000 barrels of oil per day in 2010, according to the U.S. Energy Information Administration.
Analysts at Bank of America estimate in a research report that the surge in oil prices last week was the 8th largest supply shock since 1950.
"More worryingly, with other countries like Algeria, Syria, Yemen or Saudi Arabia scoring highly on social discontent, the risk of continued tensions in the region remains high, in our view," the report said.
The report notes that strategic reserves and the spare production capacity of the Organization of the Petroleum Exporting Countries are "extremely important tools to balance the market."
But OPEC spare capacity is made up of mostly "medium sour crude," suggesting that supplies of light, sweet crude used to make gasoline will remain tight, according to Bank of America.
"Perhaps the more relevant point here is that OPEC's total spare capacity is now down substantially," the BofA report said. "Thus, the oil market's ability to deal with further sprouts of unrest in the Middle East remains limited."
-- The CNN Wire Service contributed to this report.