Military health costs up 300%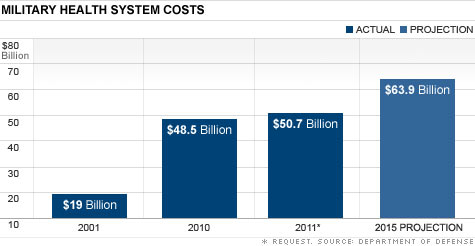 NEW YORK (CNNMoney) -- The cost of military health care, up 300% in the past decade, is eating a giant hole in the Pentagon's budget, according to a report released Monday by a group of defense experts.
The Defense Department expects to spend $52.5 billion on health care in 2012, a 300% increase since 2001, the report says. By 2015, health care will account for 10% of the Pentagon budget.
The eye-popping numbers have set alarm bells ringing inside the Pentagon.
The report, from the left-leaning Center for American Progress, lays out a way to cut $15 billion a year from the Pentagon's bloated health care budget.
The target: An insurance program called Tricare that accounts for much of the cost increase.
Currently, fees for some of the 9.6 million service members who participate in the program haven't risen since 1995. And enrollees pay rates far below what they would find in the private sector.
Fees for one popular Tricare program -- called Tricare Prime -- stand at $38 a month, or $460 a year for an entire family. Individual retirees pay $230 a year.
The report advocates for a gradual increase in enrollment fees and deductibles for working-age retirees who can afford to pay.
It would also raise costs on retirees who use a program called Tricare for Life, which is a supplemental policy for veterans enrolled in Medicare.
Those enrollees would pay a $120 annual enrollment fee, and the program would no longer cover the first $500 in expenses, and would increase cost-sharing with Medicare.
The plan would also limit coverage for high-income working-age retirees, many of whom are able to secure insurance through their currently employer, but instead choose Tricare for its rock-bottom price, and it would peg premium levels to those of Medicare Part B.
The changes advocated in the report would not change health care services provided to active duty troops.
"While the Defense Department must continue to provide top quality care to our men and women in uniform -- and their dependents, and our military retirees -- the Pentagon's health care system simply cannot afford to continue on its current trajectory without undermining military readiness and increasing our already debilitating deficit," the report says.
The report's authors include Lawrence Korb, who served as assistant secretary of defense between 1981 and 1985, are not the only ones looking for ways to control costs. The Pentagon's 2012 budget request lays out its own proposal for cost control that includes a modest increase in enrollment fees.
The Pentagon has sought to modify Tricare in recent years, but has run up against strong opposition from members of Congress.
"In recent years the department has attempted modest increases in premiums and co-pays to help bring costs under control, but has been met with a furious response from the Congress and veterans groups," Defense Secretary Robert Gates has said. "The proposals routinely die an ignominious death on Capitol Hill."