U.S. freezes $30 billion of Libyan assets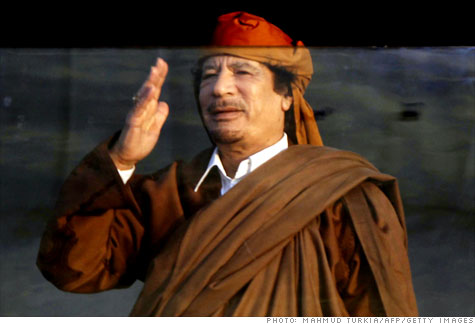 NEW YORK (CNNMoney) -- The U.S. government froze at least $30 billion of Libyan government assets -- the largest amount ever blocked under a U.S. sanctions program, a senior Treasury Department official said Monday.
It's the latest move by international players in recent days to try to contain Libyan leader Moammar Gadhafi after his violent crackdown on anti-government protestors last week.
David Cohen, the Treasury Department's acting under secretary for Terrorism and Financial Intelligence, declined to say how much belonged to Gadhafi or his family, or if it belonged to the Libyan Investment Authority -- the country's largest sovereign wealth fund.
In a press call, Cohen said there was no evidence that Gadhafi or any other Libyan government official had tried to tap those accounts in order to liquidate them.
Last week, the Swiss Government moved to freeze any assets belonging to Gadhafi. And over the weekend, the U.K. and the European Union also froze some assets and announced sanctions..
Libya reportedly has tens of billions of dollars of assets deposited or invested in countries around the world that is primarily channeled through its sovereign wealth fund.
Libyan officials told U.S. officials in January 2010 that the country had approximately "$32 billion in liquidity" held in U.S. banks, according to secret diplomatic cables released by WikiLeaks. At that time, Libyan officials also said the U.S. banks were handling $300 million to $500 million each.
Michael Maduell at the Sovereign Wealth Fund Institute said that the majority of Libya's sovereign wealth assets are located outside the U.S., mostly in Europe and in African companies.
-- CNN supervising producer Adam Levine contributed to this report.