Stocks show no fear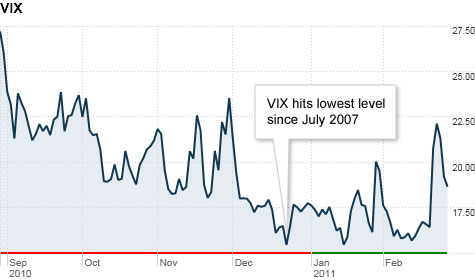 NEW YORK (CNNMoney) -- Despite the recent turmoil in Libya, stocks remain near their highest levels in more than two years and investors continue to bet on the bull.
"The fundamentals are overwhelmingly strong, and that will keep the stocks going," said Doug Cote, senior market strategist with ING Investment Management, who expect the market's current bull run to last at least another three years.
Among the catalysts for another leg up are record-high corporate profits, a rise in manufacturing activity and an increase in consumer spending and saving. On top of that, M&A activity this year is the highest it's been in a decade.
Stocks are already up nearly 5% this year but Cote said the S&P 500 still has room to grow for companies to meet the 15% earnings increase that analysts are forecasting.
"Fundamentals are accelerating faster than market prices," Cote said.
Investors are also seeking refuge in the stock market because returns in other asset classes are minimal.
"You have to remember that we're dealing with extremely low interest rates at home, and there aren't tons of places to put your money a get a decent return," said Peter Cardillo, chief market economist at Avalon Partners.
That doesn't mean there aren't some hiccups along the way.
Last week, the S&P 500 posted its worst weekly decline since November, and money flowed out of the stock market for the first time this year, according to weekly flow data from EPFR Global.
Most of that stumble came as crude oil prices soared above $100 a barrel on escalating political tensions in the Arab world. But there are other fears still percolating.
"There's still uncertainty about economic growth," Cardillo said. "We're still dealing with high unemployment and a depressed housing market, and on a global level, we're worried about mounting inflation and rising interest rates in places like India and China."
And worries about sovereign debt problems in Europe haven't completely vanished.
While it's not the best predictive tool, Wall Street's most widely cited measure of volatility, the VIX (VIX), remains low, though not as low as it's been during other bull markets.
"During the last bull market, the VIX moved into the single digits, so it's not like 16 is some kind of floor," said analysts at Bespoke Investment Group. They added that the failure to move lower may be a sign that the VIX could head higher, which suggests that stocks may be come under pressure. A reading of 30 or above indicates increasing fear.
While Cardillo and other market analysts agree that the market will continue to be volatile and could be headed for a short-term correction of around 10%, they also think the market's rally still has legs.
That's because the market still has the Federal Reserve's support.
"If oil prices keep going up, the Fed may have told hold off on pulling the trigger on all the stimulus and low interest rates," Cardillo said. "Stocks are still the only game in town."