Stocks: Worst week since November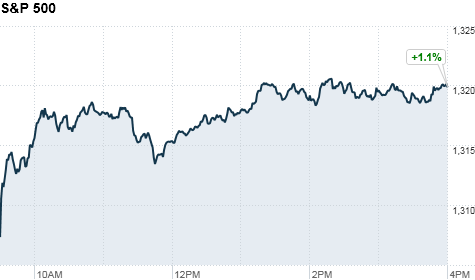 NEW YORK (CNNMoney) -- U.S. stocks closed solidly higher on Friday, but fears about Libya and the oil markets translated into the worst week for stocks since November.
The Dow Jones industrial average (INDU) rose 62 points, or 0.5%, to 12,130; the S&P 500 (SPX) rose 13.8 points, or 1.1%, to 1,320; and Nasdaq Composite (COMP) gained 43 points, or 1.5%, to 2,781.05.
The Dow was led higher by shares of Boeing (BA, Fortune 500), which rose 2.2% after the aerospace giant won a $35 billion tanker contract from the Air Force. Shares of Intel (INTC, Fortune 500) also led the blue chips higher, closing up up 2.7%.
Today's gains come after the Dow posted losses for three consecutive sessions following the increased violence in Libya and rapidly rising oil prices. The S&P 500 is down 1.7% this week, the Dow Jones fell 2.1% and the Nasdaq lost 1.9%. It was the worst week for stocks since the week of Nov 12.
Part of today's market gain was related to the price of oil, investors said. Crude swung between modest gains and losses on Friday, trading at around $98 a barrel in late-morning trading. While still hovering near $100 a barrel, crude is now about $5 below the high it hit earlier this week.
Marc Pado, chief market strategist for Cantor Fitzgerald, said he believes the oil market has calmed from its "panic mode" earlier this week. Even if oil does continue to rise above $100, Mado said he isn't as worried as he was three years ago during the commodities bubble of 2008.
"I don't think $100-a-barrel oil prices are as a big of a concern for the market as they were [then] because we have the economic growth to absorb some of these higher prices," Pado said.
But Paul Zemsky, head of asset allocation with ING Investment Management, said he doesn't expect today's stock gains to hold going into next week if Libya remains in turmoil.
"I see this as a short-term bounce, if violence in oil producing countries continues, it's going to easily bring more fear into the stock and oil markets," Zemsky said.
On Thursday, stocks rebounded from afternoon lows to finish with small losses, as oil prices retreated from two-year highs above $100 a barrel.
Economy: The U.S. Bureau of Economic Analysis reported real gross domestic product increased at an annual rate of 2.8% in the fourth quarter. This is a revision from a preliminary report.
The GDP revision was much less than the 3.3% increase economists forecasted, according to a consensus survey by Briefing.com.
A final read on February's University of Michigan consumer sentiment survey also is on the docket. The index is expected to remain unchanged at 75.1.
Companies: Autodesk (ADSK) shares jumped 6% after the company reported a 23% rise in earnings after Thursday's closing bell.
Shares of Salesforce.com (CRM) rose 3.4% on Friday after the company reported a 29% jump in fourth-quarter sales.
World markets: European stocks closed broadly higher on Friday. Britain's FTSE 100 added 1.4%, the DAX in Germany ticked up 0.8% and France's CAC 40 gained 1.5%.
Asian markets ended the session mostly higher. The Shanghai Composite was flat, while the Hang Seng in Hong Kong rose 1.8% and Japan's Nikkei added 0.7%.
Currencies and commodities: The dollar gained strength against the euro and the British pound, but slipped against the Japanese yen.
Oil for April delivery closed up rose 91 cents, or 0.94%, to $98.19 a barrel.
Motorists are feeling the spike. The nationwide average price for gasoline rose nearly 6 cents overnight, according to AAA. This means that prices have jumped nearly 12 cents this week.
Gold futures for April delivery dipped $6.50, or about 0.5%, to $1,408.30 an ounce.
Bonds: The price on the benchmark 10-year U.S. Treasury edged higher, with the yield hitting 3.43%.