Crude oil tops $102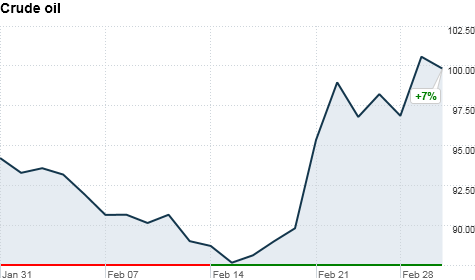 NEW YORK (CNNMoney) -- Oil prices rose to their highest levels since September 2008 Wednesday as traders continue to worry that Libyan unrest could spread across the Middle East.
The benchmark U.S. oil contract, West Texas Intermediate, rose $2.60, or 2.6%, to settle at $102.23 a barrel for April delivery.
Brent crude, the main oil contract in Europe and other parts of the world, was down 28 cents to $115.74 a barrel.
Earlier this week, oil prices eased off the record highs hit during last week's volatile trading. But renewed geopolitical concerns reignited the surge on Wednesday.
The recent run-up in prices has been driven by violence in Libya, where rebels and forces loyal to the North African nation's leader, Moammar Gadhafi, continued to escalate Wednesday.
But investors are also nervously watching developments in Iran, the fourth-largest crude exporter in the world, following reports of sporadic protests and clashes with security forces on the streets of the capital, Tehran.
In addition, antigovernment movements have roiled Yemen, Oman, Bahrain and other nations in the region after protesters in Egypt and Tunisia pushed out unpopular leaders earlier this year.
While Saudi Arabia and other members of the Organization of the Petroleum Exporting Countries have pledged to increase production, many investors are concerned that unrest in a region that controls much of the world's oil reserves could result in supply disruptions.
"The underlying fear is still that the current unrest will -- or has already started to -- spread to other countries," according to a research report from Cameron Hanover, a firm that specializes in energy price risk management.
However, the amount of oil that has been taken off the world market so far has been relatively minimal. Analysts say global crude supplies remain relatively flush.
Meanwhile, gas prices continued to move higher, rising for the eighth day in a row.