Home prices: The double-dip is near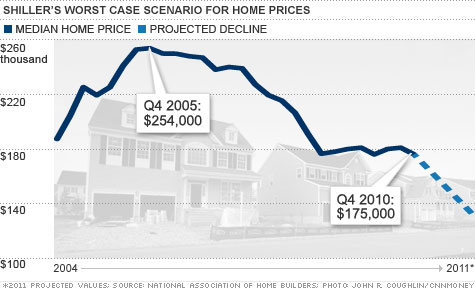 NEW YORK (CNNMoney) -- That big sucking sound you heard last week? That was the air being taken out of the housing market by a slew of bad reports followed by some dire predictions by an industry bubble-spotter.
On Tuesday, we found out that home prices were near their post-bust lows. Two days later the government reported that January saw a double-digit dip in the number of new homes sold.
Then Robert Shiller, the Yale economist and co-founder of the S&P/Case-Shiller home price indexes, dropped this bomb: "There's a substantial risk of home prices falling another 15%, 20% or 25%," he said.
That's a stunning enough pronouncement to make house hunters consider putting purchases on hold. And that may not be a dumb move: If prices are near a double dip -- meaning they fell after the bust, rose a bit during recovery and are now heading back down -- there may be better deals ahead.
"There will be differences by market, but generally, you may get a big discount by waiting a year [to buy]," said Dean Baker, co-director of the Center for Economic and Policy Research, who thinks the price drop will be closer to 10% or 15%.
Baker looks at the ratio between local home prices and annual rents to judge whether markets are overvalued. If the median-priced home sells for more than 15 times the median annual rent, there's a good chance prices may come down.
On a national level, Shiller and other economists compare home price changes with income growth over the years. Before the bust, home prices had been outpacing earnings since the late 1990s.
Just to get that back to a normal ratio -- which we last saw in 1998 -- home prices would have to drop another 15%, according to Anthony Sanders, a director of Real Estate Entrepreneurship at George Mason University.
"Even after the bubble burst, the ratio of income to home prices is still way too high," he said.
Naturally, many disagree with these assessments. Karl Case, who co-founded the home price index with doom-sayer Shiller, believes that the market will "bounce along the bottom all year." If that's the case, buyers who take the plunge now shouldn't expect big profits if they sell in the next few years, but they shouldn't have to take a major hit either.
Besides, a home purchase is more than a potential investment, especially for families planning to stay put for a while. The big plus for them is the pleasure of living in their own homes.
"People should base their decision on affordability, lifestyle choices and home preferences, not on investment," said Lawrence Yun, the National Association of Realtors' chief economist.
Some stable areas, such as Texas and the Midwest, will probably not experience price plunges at all, but other markets, such as Seattle, Portland and inland California, could still fall substantially, according to Baker.
Even for the markets most likely to rebound, projected returns are minimal. Fiserv, which provides financial information and analysis, projects that the best performing market over the next two years will be Tacoma, Wash. -- and it will only record a price increase of 12%. That means those in average markets can only hope for single-digit returns.
With home-price gains so modest, it doesn't pay to buy unless you're pretty sure you'll stay for five years or more. "With high transaction costs, buying and selling, it probably will not work out financially," Baker said.
Nicolas Retsinas, of the Harvard Joint Center for Housing Studies, recently advised his own daughter about buying a home. She was returning to Providence, R.I., but it might only be for a few years.
He told her to rent -- not that it mattered. "Whose kids listen to them anyway?" he asked.
Even those with longer time horizons should not take it for granted that their purchases will pay off. Home prices could stagnate well into mid-decade.
Despite the gloom, many Americans remain confident about home buying. A survey released Monday by Fannie Mae revealed that 65% of people believe it's a good time to purchase, with 78% expecting prices will rise or remain the same over the next 12 months.
And buyers may take heart from some positive recent indicators, such as an up tick in the sales of existing homes in January; a drop in vacant rental homes; and more investors snapping up properties.
There's also been an upswing in the number of high-end homes -- those costing more than $750,000 -- being sold, according to Yun. The wealthy buyers of these properties have lots of choices of where to place their money and many are investing in real estate.
"The smart money is making their move," said Yun.