More jobs means worse traffic congestion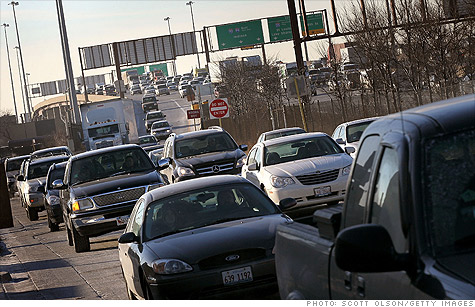 NEW YORK (CNNMoney) -- Had you noticed your drive to and from work got a little quicker the past couple of years?
Workers spent 4.8 billion hours slowed or stuck in traffic due to congestion during 2009, according to a recently released report from the Texas Transportation Institute at Texas A&M. That was an improvement over 2006, when a record 5.25 billion hours were wasted. But it still equates to an average of 34 extra hours per year on the road.
And the good days are about to end.
"There's a real chance that congestion is going to get much worse, very fast," said David Schrank, a researcher and co-author of the survey. "Already, 2009 was an up tick from 2008 when 4.62 billion hours were wasted."
The reason: good news on the economic front. A recovery will mean hiring and that will put more wheels on the roads. Many of those roads are already filled to near capacity. Of course, rising gas prices could temper the problem by keeping drivers home.
The record year for time wasted in traffic was 2006, when the economy was humming and the national unemployment rate then was under 5%. Drivers that year languished an extra 5.2 billion hours on the roads.
But by 2008, unemployment had climbed to nearly 10% and congestion eased a bit. If companies add workers, the time wasted on the road will balloon up, as will the price tag for time wasted and fuel spent, which is currently at $808 per driver, according to the report. (And that's pre-$100 a barrel oil.)
The biggest problem is that the nation does not build highway infrastructure as quickly as car travel grows. Over the past 20 years, there's been a 54% jump in travel in large metro regions and only a 36% increase in road capacity.
10 worst metro areas
While Los Angeles traffic has become the stuff of legend (commuters do lose an average of 63 hours a year to congestion there), the report identified Chicago and Washington., D.C., as the metro areas with the biggest congestion problems. Both burden commuters with an extra 70 hours of travel time a year beyond normal drive times.
L.A. was third, and the fourth worst congestion was in Houston, with 58 hours wasted. Baltimore was fifth with 50. Rounding out the top 10 were San Francisco (49), Dallas and Boston (both 48), Denver (47) and, tied for 10th, Atlanta and Seattle (44).
Each place has its own particular conditions. For example, "in Washington, D.C., there's a high concentration of jobs that are hard to get to without crossing a river," said Schrank.
That forces traffic through a limited number of choke-points -- the bridges over those rivers -- and when the least little thing goes awry -- a fender-bender, a breakdown, bad weather -- the choke-points close.
A secondary factor is that such a high proportion of the work in the D.C. area is in government jobs. Schrank said that these jobs nearly always run on an 8-to-5 day, with much of the work force out their doors at the same time.
That's why one of the ways many metro areas manage their traffic is through encouraging flexible hours. If some jobs start at 7 a.m. and others at 10 a.m., it spreads out the traffic.
In Chicago traffic problems are due, in part, to the age of its infrastructure. Many old roads there have been retrofitted to handle greater volume, but these generally are not as efficient as modern highways engineered with today's cars, traffic and drivers in mind.
Many retrofitted roads -- all over the Northeast and Midwest -- feature narrow lanes, short entrance ramps and cramped shoulders. All those tend to lower driving speeds and are more prone to snarls.
Los Angeles has a heavier burden of car traffic than either Washington or Chicago but, Schrank said, given the mammoth size of it vehicle commuter population, the traffic engineers there do a good job at managing it.
"They use every technique known to man," he said.
Those include: Building mass transit; getting more people into fewer vehicles through high-occupancy vehicle lanes; encouraging flexible hours and working from home; entrance ramp metering; and dynamic speed limits.
The dynamic speed limits change with conditions: When traffic gets heavier, limits drop from, say, from 60 miles per hour to 50. Then, rather than having some cars going much faster than others, which can cause strains, everyone moves at about the same slower pace and traffic flows more smoothly overall.
The larger the metro area, the more congested, on average, is the traffic. Areas of 3 million plus population averaged 50 hours of wasted time annually. Metro areas of between 1 million and 3 million averaged 31 hours. Those cities with and between 500,000 and 1 million people lost 22 hours.