California insurer: Audit backs 59% rate hike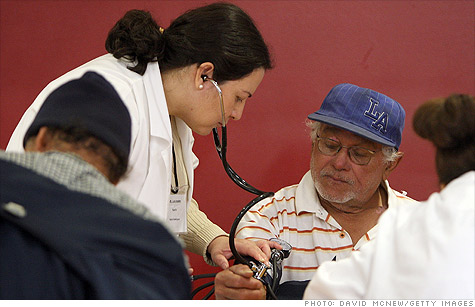 NEW YORK (CNNMoney) -- Blue Shield of California said an independent review of its proposed premium hikes -- totaling as high as 59% -- found that the rates are "reasonable [and] not excessive."
This means that some Blue Shield policyholders could see a substantial hike in their premiums when state regulators complete their own review.
"The only thing that could stop Blue Shield from implementing the rate increases is if lawmakers pass emergency legislation very soon that stops it," said Doug Heller, executive director of consumer advocacy group Consumer Watchdog.
Heller said that's a long shot, as lawmakers first grapple with California's $25 billion budget shortfall.
"Until then, insurers continue to have the power to say 'No, we won't reduce rates,' and consumers have to say 'Yes, we will pay these higher rates,'" said Heller.
Blue Shield, one of California's largest insurers, triggered a backlash in early January when it announced a third premium increase in a short span. The increases would total, for some customers, as much as 59%.
The increases affect 194,000 individual policy holders. Blue Shield of California has a total of 3.3 million policyholders.
The company blamed the hikes on higher medical costs, greater use of medical care and a growing trend of healthier people dropping coverage during a bad economy.
Shortly after the announcement, Blue Shield hired an outside expert to review the three rate increases, two of which had gone into effect. It promised refunds to policy holders if the increases were found to be excessive.
The refund would be voluntary. Under California law, the state insurance commissioner has no authority to reject excessive premium increases.
Still, California state insurance commissioner Dave Jones asked Blue Shield of California to delay the implementation of the rate by 60 days, pending a full review by state regulators. Blue Shield originally said the hikes would take effect on March 1.
"The Obama administration continues to work with states to strengthen review of rate increases," Jessica Santillo, spokeswoman for the Department of Health and Human Services, said Friday.
"Americans deserve relief from out-of-control premium hikes, which is why we believe Commissioner Jones, and commissioners in every state, should have effective rate review authority," she said.
On Friday, Jones expressed his concern about Blue Shield's audit.
A preliminary review of the report "indicates the insurer has failed to provide all the information we requested and this has led to serious concerns about their filing," Jones said in a statement.
"We will continue to review it thoroughly. However, I want to stress that I do not have the authority to reject excessive rates," he said.
Blue Shield spokesman Tom Epstein said the company stands by the independent review and that the insurer will not implement any new rate increases until state regulators complete their review.
"The commissioner's staff has asked for additional information and we are continuing to provide data to the commissioner's office as quickly as we can," said Epstein.
Ioannis Kazanis, a spokesman for Commissioner Jones, said regulators were conducting their review as quickly as possible but could not say when the process would be completed.
Heller said his group has hired its own independent actuary to analyze the outside expert's report on Blue Shield's proposed rate increases.
"We're concerned that this could be a whitewash of a report," said Heller. "Our auditor's report should be ready next week."
David Axene, president of Axene Health Partners, the actuary hired by Blue Shield, declined to comment.