Cities with the most credit card debt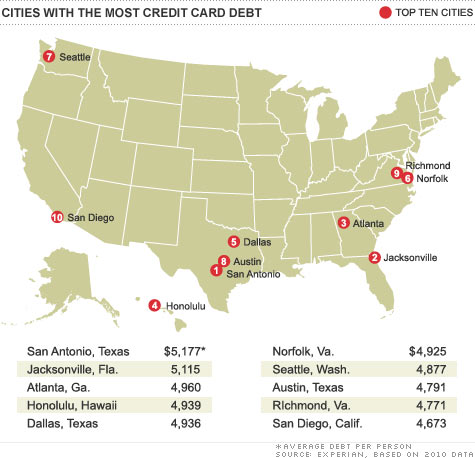 NEW YORK (CNNMoney) -- The Great Recession hasn't stopped Americans from swiping their credit cards and racking up debt.
The average consumer owed more than $4,200 in credit card debt by the end of 2010, according to a report from credit reporting agency Experian. That is down a modest 4% from $4,467 in the previous year, but consumers in certain cities owed a lot more than the national average.
(The agency collected data from customer credit files, looking at just bank credit cards, not retail cards that can only be used in the issuing establishment.)
Residents of San Antonio, Texas, carried the highest balances, with an average $5,177 on their cards That is more than 21% above the national average. Cardholders in Jacksonville, Fla. weren't much thriftier, carrying an average $5,115 in credit card debt. (See the top 25 cities here.)
Atlanta, Honolulu and Dallas-Fort Worth rounded out the five most indebted cities. Out of the 25 cities with the highest levels of credit card debt, nearly all were located in the South.
Credit card balances in Evansville, Ind., jumped the most during the year -- a whopping 16% -- while residents of Lafayette, La., owed 14.5% more.
At the same time that consumers continued to rack up debt, they carried fewer cards -- a recipe that can wreak havoc on your credit score.
Consumers carried an average of 1.97 cards, down 23% since 2007. That has led cardholders to utilize more than 30% of their total available balance -- up 10% from 2007.
"By carrying over credit card balances and utilizing a significant portion of their available balance, they can potentially negatively affect their credit scores, which can in turn, hurt them when it comes to applying for other types of credit down the line including mortgages and car loans," said Maxine Sweet, vice president of public education at Experian.
But not all cities were splurging last year.
Consumers in a handful of cities managed to significantly whittle down their debts. The biggest savers in 2010 were in Fort Wayne, Ind., where credit card balances dropped an average 24%. Meanwhile, residents of El Paso, Texas, and Boise, Idaho reduced their credit card balances by about 14%.

Twenty-five cities with the most bankcard debt in December
Metropolitan statistical area
Average balance
San Antonio, Texas
$5,177
Jacksonville, Fla.
$5,115
Atlanta, Ga.
$4,960
Honolulu, Hawaii
$4,939
Dallas, Texas
$4,936
Norfolk, Va.
$4,925
Seattle, Wash.
$4,877
Austin, Texas
$4,791
Richmond, Va.
$4,771
San Diego, Calif.
$4,673
Baltimore, Md.
$4,645
Columbus, Ohio
$4,631
Denver, Colo.
$4,608
Tallahassee, Fla.
$4,605
Colorado Springs, Colo.
$4,601
Las Vegas, Nev.
$4,599
Washington, D.C.
$4,598
Augusta, Ga.
$4,575
Reno, Nev.
$4,575
Spokane, Wash.
$4,572
Savannah, Ga.
$4,570
Phoenix, Ariz.
$4,559
Miami, Fla.
$4,555
Montgomery, Ala.
$4,532
Orlando, Fla.
$4,525
Source: Experian