Low, low prices: Target beats Wal-Mart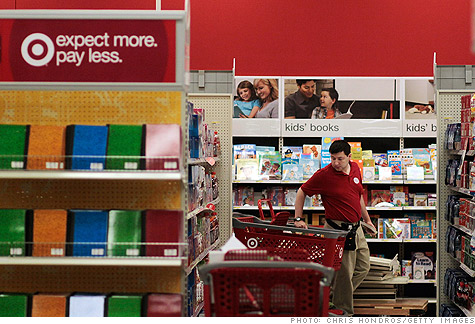 NEW YORK (CNNMoney) -- Wal-Mart's slogan may be "Save Money. Live Better," but rival Target is challenging it by offering even lower prices on everyday products.
Two recent price comparisons of grocery and household goods revealed that Target's prices are lower than at No. 1 retailer Wal-Mart.
Craig Johnson, president of retail consulting firm Customer Growth Partners, compared 35 brand-name items sold at Wal-Mart (WMT, Fortune 500) and Target (TGT, Fortune 500) stores in New York, Indiana and North Carolina. They consisted of 22 common grocery goods such as milk, cereal and rice; 10 general merchandise products such as clothing and home furnishings; and three health and beauty items.
Target's shopping cart rang in at $269.13 (pre-tax), a hair lower than the $271.07 charged at Wal-Mart.
"For the first time in four years, our price comparisons between the two has shown that Target has a slight edge over Wal-Mart," said Johnson. A smaller study by Kantar Retail found similar results.
Wal-Mart typically maintains a 2% to 4% price advantage over Target. But in January, Johnson noticed that some products were cheaper at Target.
That has continued into February, he said.
If you factor in additional discounts offered to Target's Redcard customers, the savings gap widens more considerably between the two discounters.
Said Johnson, "When you add the Redcard's 5% discount, the price gap widens to 5.7%."
Not all Target customers are Redcard holders. Target declined to say how many customers are members. However, 7.4% of Target's total sales in the fourth quarter were Redcard transactions, said Target spokeswoman Molly Koenst.
Wal-Mart does not offer a similar program.
"This is a real win for consumers given the huge increase in gas prices lately," said Johnson. "Consumers have little control over gas prices but they do have control over what they buy and where they shop."
Targeting Wal-Mart: Target's undercutting of Wal-Mart's prices didn't happen overnight, said Johnson.
"Target stepped up its game during the recession," he said. "The company caught up with Wal-Mart on making its supply chain more efficient so it could bring down prices on items people frequently buy."
Groceries are big traffic generators, and Wal-Mart still dominates Target there. About half the items that Wal-Mart sells are groceries.
Johnson estimates that 15% to 20% of Target's merchandise are groceries. Koenst declined to confirm those numbers but said 16% of Target's sales in 2009 were food and pet supply purchases.
Chewing over the numbers: Kantar surveys just one Wal-Mart and one Target store in Massachusetts and found Target's prices in January were about 2.8% lower than Wal-Mart's.
Among the goods that Kantar compared, cheaper health and beauty items, and particularly smoking cessation gum, helped Target beat Wal-Mart.
But in groceries and household goods such as light bulbs, trash bags and detergent, Kantar found Wal-Mart still boasted better prices than its rival.
Wal-Mart spokesman David Tovar said, "We are absolutely committed to offering our customers low prices every day. If customers find a lower advertised price, we'll match it every time."
"I think Target can maintain its edge in the near term," said Johnson at Customer Growth. "But remember, Target isn't beating Wal-Mart on all items but it is on those that really matter to consumers."