Is China's economy slowing too fast?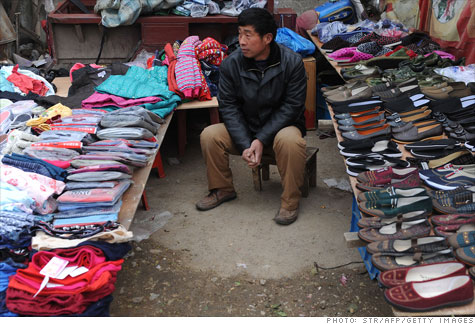 NEW YORK (CNNMoney) -- It's starting to look as if everybody's worst fears about China's economy may finally be coming true. China is slowing down.
But how severe will the pullback be? And is it only temporary? That's up for debate.
China reported sluggish auto sales figures for February on Wednesday morning. According to the China Association of Automobile Manufacturers, sales of passenger vehicles were up less than 3% from a year ago.
One reason for the slowdown is that tax breaks for small cars expired at the end of last year. But the anemic pace of growth may continue.
Economists from Barclays Capital noted in a report Wednesday that "with borrowing costs rising and credit availability falling, the fuel for rising automobile demand is running low" throughout Asia.
The economists added that weakness could be most pronounced in China and India since their central banks are raising rates to combat inflation.
If oil prices remain above $100 a barrel for an extended stretch, that could only make matters worse. And that may eventually be bad news for the likes of General Motors (GM) and Ford (F, Fortune 500). (Their Chinese sales did rise in February though.)
China's auto sales news comes only a few days after the Chinese government disclosed that it was targeting an economic growth rate of 7% a year for the next five years.
That, of course, is still robust growth -- even if it is considerably lower than the double-digit percentage gains that China's economy has been growing at for the past few years.
"China is not immune to business cycles. But slowing the trajectory of growth is not the same as saying the economy is going to decline," said Art Steinmetz, chief investment officer at OppenheimerFunds Based in New York.
Still, there is reason to be worried that China's economy may be cooling even more quickly than people expected.
Optical networking equipment maker Finisar (FNSR), which had been one of the hottest stocks this year due in part to hopes for strong growth in China, stunned investors Tuesday evening with a weak outlook for the current quarter.
Finisar said in its earnings report that "a slowdown in business in China overall" was a key reason for its tepid forecast.
Shares of Finisar plunged nearly 40% Wednesday on the news, dragging down other networking equipment companies with a big presence in China, like JDS Uniphase (JDSU) and Ciena (CIEN).
If more Chinese telecoms and tech firms start to rein in spending, that's not good news. It goes without saying that a healthy Chinese economy is key to keeping the U.S. and global recovery on track.
China is now officially the second-largest economy in the world. Big U.S. firms such as KFC owner Yum! Brands and Caterpillar (CAT, Fortune 500) are doing more business there. China is the largest foreign holder of U.S. Treasury debt.
We need China even if we sometimes don't agree with or understand everything their government does.
And the biggest problem right now is that China can't afford to be lax about inflation risks. That likely will mean more monetary tightening to slow growth further -- even as the Federal Reserve seems intent on keeping rates near zero for the foreseeable future.
"Excess liquidity is already feeding property bubbles, commercial and residential, in certain cities," wrote Andrew Milligan, head of global strategy at Standard Life Investments in Edinburgh, Scotland in a report this week.
He noted that China is acting aggressively. There have been eight increases to bank reserve ratio requirements and three interest rate hikes in the past few months. But China probably has only just begun to tighten.
"The latest data still suggest that the authorities are behind the curve, and have more to do," Milligan wrote.
Despite these fears, it's worth remembering that China is clearly not on the verge of a 2008-style economic collapse. In addition, China's economy often tends to hit a soft patch around the Lunar New Year holiday.
So what may look bad now could turn out to be just the standard Chinese New Year slowdown. That appears to be what semiconductor giant Texas Instruments (TXN, Fortune 500), a leading supplier of chips for phones in China, is banking on.
"We typically expect to see some noise around the Chinese New Year, and that was no exception this year," said Ron Slaymaker, head of investor relations for Texas Instruments, during a conference call with analysts Tuesday.
Slaymaker added that demand did dip in early February but strengthened later in the month. But he conceded that sales in Asia overall, including Japan, are likely to cool when compared to the U.S. and Europe.
Still, even if China's growth slows, the bigger concern would be what might happen if China doesn't go far enough to keep pricing pressures in check. The consequences of China losing the battle with inflation would be far worse than annual growth slowing from 10% to 7%.
"We're not worried about a hard landing in China. We're worried about China hardly landing," Steinmetz said.
-- The opinions expressed in this commentary are solely those of Paul R. La Monica. Other than Time Warner, the parent of CNNMoney, and Abbott Laboratories, La Monica does not own positions in any individual stocks.