Chinese consumers squeezed by rising prices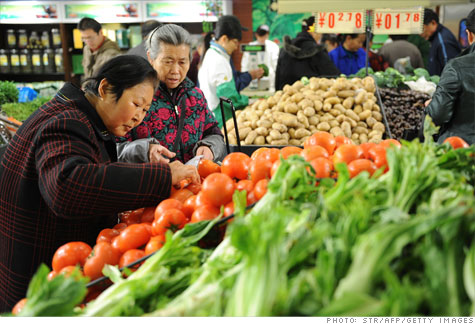 NEW YORK (CNNMoney) -- Inflation in China has been on a tear lately, and Chinese consumers are feeling the pinch of rising food, energy and housing prices.
"Fuel prices are rising, toll prices are higher, food prices are rising; but even if it's expensive, we still have to eat!" wrote Little Fu 01 on Sina Weibo, China's version of Twitter.
Another user called Silent Insects writes: "I am so frustrated...prices rising prices rising prices rising."

China's consumer price index rose 4.9% in January, up slightly from 4.6% growth in December, according to data released by the Chinese government Tuesday morning.
China's rate far outpaces inflation in developed nations. Consumer prices rose a mere 1.5% in the United States in December.
Chinese food prices alone rose a staggering 10.3%, up from a 9.6% pace in December.
A Sina Weibo user called Fat Lady Bei posted, "One renminbi can buy a very small tomato or one cucumber. When I eat at the cafeteria, it's more expensive, and the portion sizes are smaller. Are we going to have to be like Japan in the future and ration our portions?"
The country's explosive real estate market is another source of frustration among average Chinese. Housing prices rose by 6.8% during the month.
"Lots of peasants' land has been confiscated to build apartment buildings and factories, and fewer people are planting food. All people can do now is just try to shrink their stomachs," wrote Little Fu 01.
Reining in rising prices
Two unusual circumstances may have distorted January's data slightly, making the numbers seem even lower than they actually are, said Jennifer Lee, a senior economist with BMO Capital Markets
Every five years, the Chinese government adjusts the way it calculates its inflation data, and that adjustment may have reduced the inflation number by putting less emphasis on food prices, Lee said.
Chinese New Year also came into play. Food prices rise, for example, when consumers stock up on food for their New Years' celebrations, and fall soon after, as demand returns to more normal levels.
But one thing is clear: China's inflation is very rapid, despite several government efforts to tame its swift rise.

"They don't want the economy to overheat," Lee said. "Unlike the rest of the developing world -- which is trying to boost economic activity -- China is trying to cool it down."
International leaders have recently criticized China for keeping its currency the yuan, also called the renminbi, undervalued. They argue it artificially reduces the price of Chinese exports, giving businesses there an unfair advantage in international trade.
But a weak yuan also hurts China's own people, economists say.
To combat inflation, the Chinese government has recently implemented several measures to tighten the reins on its economy.
Its central bank has raised the level of reserves that banks are required to hold seven times in the last year, and raised interest rates three times in the last four months.
-CNN's Eve Bower and Helena Hong contributed to this report.