Angry Birds' plan for world domination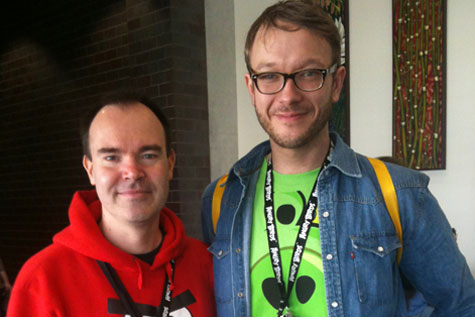 AUSTIN (CNNMoney) -- With very little cash, the developers at Finland's Rovio Mobile created the wildly popular Angry Birds game. Now they have $42 million in venture capital to throw at expanding their "mean pigs, cranky birds" empire.
"I think it's pretty clear that this is an unbelievable consumer phenomenon," says Richard Wong of Accel Partners, who led the firm's investment in Rovio. "We believe it can be an incredible consumer franchise beyond just being a mobile game."
The funding, announced Thursday, is the first venture-capital money Rovio has taken. Founded in 2003 as a mobile game development studio, Rovio steadily built up a reputation as one of Europe's most innovative game shops. The company partnered with key global players like Electronic Arts (ERTS, Fortune 500), Nokia (NOK) and Vivendi, and developed a portfolio that includes dozens of mobile games, like "Need for Speed" and "War Diary Torpedo."
Then came Angry Birds. Hatched in 2009, the game took flight last year, dominating Apple's list of top-selling paid iPhone apps. From there it sailed to other platforms like the iPad, Android, and almost every other smartphone out there. (A Windows Phone 7 version won't be available until later this year -- the subject of much moaning in Microsoft's ecosystem.)
The birds' creators are ready to escape the digital realm.
"We're going to expand the franchise in a lot if directions, so we're working on the movie side, broadcast, TV," Angry Birds developer Peter "Mighty Eagle" Vesterbacka told CNNMoney at the SXSW Interactive conference.
Along the way, they're cutting savvy business deals. Rovio announced Monday that the Android version of its upcoming Angry Birds Rio game will be available exclusively in Amazon's soon-to-launch app store. That store will also exclusively host the first paid, ad-free Android versions of Angry Birds and Angry Birds Seasons.
It's a big win for Android -- and one that sets it up in direct competition with Google's Android Marketplace.
"The Android platform has seen phenomenal growth, and it's great that new avenues for app distribution are opening up," Rovio CEO Mikael Hed said in a press release.
Vesterbacka, who cites Nintendo's Super Mario Brothers franchise and Disney's Pixar studio as role models, said Rovio will use its funding round to turbocharge Angry Birds' brand growth.
"We're of course looking at the whole online social experience," he said. "We are working on a game that will involve Facebook ... really the plan is to make Angry Birds playable everywhere."
The game has now been downloaded 100 million times. What's its secret sauce? Underpinning the now-iconic characters are carefully honed game mechanics. As Vesterbacka puts it: "It's easy to pick up and very addictive ... very hard to put down."
Angry Birds' admirers seem willing to make the leap offline. Rovio has sold 2 million plush toys, and recently branched out into selling Angry Bird apparel.
"It seems like our fans really love to wear and play with Angry Birds physical toys as well," Vesterbacka said.
Ville HeiJari -- whose title at Rovio is the "Bird Whisperer" -- thinks they were able to crack into the market at the perfect time.
"Games are becoming such a massive media that all the game developers are transforming into something else entirely," he said.
Vesterbacka agrees. "Timing-wise, we sort of planned it. We saw it coming. We were looking at the market and we saw this is now the sweet spot to get in."
Rovio now brands itself an "entertainment media company." Like its birds, it's ready to fly off into new territory.