Barely hatched, startups take flight at SXSW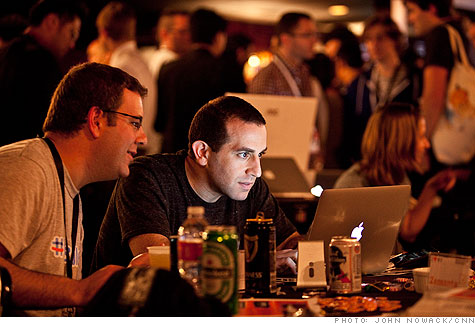 AUSTIN (CNNMoney) -- Almost 2,000 miles from New York, a posse of the city's tech entrepreneurs gathered Sunday at an SXSW offshoot to network, recruit and pitch investors over beer.
Established fixtures from the city's startup scene -- like Etsy, Foursquare and Gilt Groupe -- turned out to mingle with a flock of brand-new upstarts. Some, quite literally, are just-barely hatched: Scott Carleton, co-founder of Artsicle, turned out to pitch his "Netflix of fine art" site. It launched 10 days ago.
Carleton is a former nuclear engineer who recently turned his hand to Web development. The creation-spark for Artsicle came from his girlfriend and fellow co-founder, Alexis Tryon, an art lover and former American Express employee.
"She went to a SoHo gallery, bonus check in hand, wanting to buy a painting -- and they wouldn't show it to her," Carleton says. Several tries later, she still couldn't crack the gallery code.
Enter Artsicle, which wants to demystify art shopping. For $50 a month, subscribers can rent a work from the site's portfolio. If they love it and want to keep it, the purchase price is prominently posted. Otherwise, they can swap it the next month and snag a new painting to display. The site opened its doors with a roster of 30 emerging artists, sourced from local university programs and galleries.
"It's completely bootstrapped," Carleton says of his venture, which went from idea to launch in four months.
On the other end of the spectrum are New York tech firms like SecondMarket, a seven-year-old financial services company that handled $10 billion in transactions last year. Its executives stopped by to tout the company's new private-stock sales platform, which connects deep-pocketed buyers with equity holders -- like employees at the startups milling around, drinking Shiner Bocks and swapping business cards via Twitter.
New York's tech scene leans heavily toward consumer Web companies. The SXSW meetup reflected that tilt, with pitches from new startups like imup4 (a planning tool for group outings), Dealery (daily-deals aggregator) and Pixable (Facebook photo sharing).
But the city is also home to a handful of deep-geek enterprise software companies -- the kinds of ventures more typically found in Silicon Valley. Like MongoDB. The name comes from "humongous," and that's the best way to describe the databases MongoDB underpins. It's the foundation of Foursquare, which stored records for 382 million check-ins last year.
MongoDB is an open-source product, offering its software (and the complete code base) for free and making money selling services and support around it. Founded in 2007, the company now has 30 people and a client roster that includes Intuit (INTU), Shutterfly, Bit.ly and the New York Times.
The most common complaint about trying to run a tech company in NYC is the city's shallow pool of skilled programmers, compared to the deep reservoirs in the San Francisco area. Nosh Petigara, director of product strategy at 10gen -- the commercial developer behind MongoDB -- said he "hasn't found it super-hard to recruit" the engineers MongoDB needs to grow. Still, 10gen just opened its first Bay Area office, in part, to tap into the city's talent stream.
Support for NYC's growing tech ecosystem goes straight to the top. As SXSW kicked off, Mayor Mike Bloomberg fired off a tweet in the Austin direction: "To all the NYC technology leaders attending #SXSW this year: show 'em how we do innovation here in #NYC @NYxSW"

For CNNMoney's full SXSW coverage, follow @CNNMoneyTech and visit CNNMoney.com/sxsw.