Japan quake: Little impact on global markets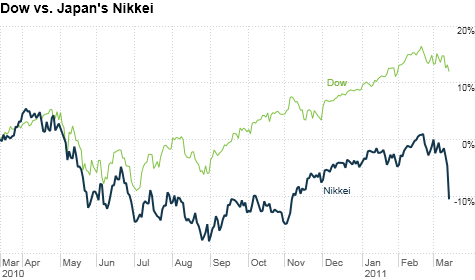 NEW YORK (CNNMoney) -- Despite the overwhelming human toll, investors said they expect the Japanese earthquake of 2011 to have little impact on world markets over the next few months.
In the first full trading day following last week's quake, Japan's Nikkei 225 plunged 6.2% Monday.
Other world markets were mostly lower, but the decline was generally more muted. In Europe, Britain's FTSE 100 ended down less than 1%, while Germany's DAX fell 1.7% and France's CAC 40 lost 1.3%.
There were gains in Asia -- Hong Kong's Hang Seng rose 0.4% Monday, while China's Shanghai Composite edged up 0.1%.
Investors said that while Japan's disaster weighed on investor sentiment Monday, attention will eventually turn back to oil, which investors believe will be the bigger story in the longer run. After being down as much as $2.69 earlier, oil was little changed at just above $101 a barrel.
"The potential for rising oil prices because of the turmoil in the Middle East, on a macro basis, will have a considerably bigger impact on the global economy than this earthquake," said Josh Feinman, global chief economist for DB Advisors, the asset management division of Deutsche Bank.
Investors gave a few reasons for why the disasters in Japan won't have a major market impact.
For one, Japan's economy hasn't been a growth leader for years. While Japan does have the third-largest economy behind the U.S. and China, Japanese gross domestic product has been basically unchanged since the late 1990s.
Investors had not expected Japan to help bring the global economy out of its recession, unlike its Asian counterpart China. Had this earthquake happened in a major industrialized part of China, investors would have more reason to be concerned.
Further, investors expect Japan to spend resources to rebuild its infrastructure, which should provide a medium-term boost to the country's economy.
"If there was any silver lining to this earthquake, it would be that the Japanese government is going to have to invest heavily in infrastructure and other assets," said Charles Whitehead, a professor at Cornell University and a former Citigroup executive who was based in Japan.
In addition, questions remain regarding the status of Japan's nuclear power plants and whether the partial meltdown at one of the plants could impact future energy generation globally.
"Nuclear power generation has been slowly gaining support both here in the U.S. and in Europe," Feinman said. "I'm afraid this is going to set back nuclear power construction yet again."