Japan nuclear fears lift solar stocks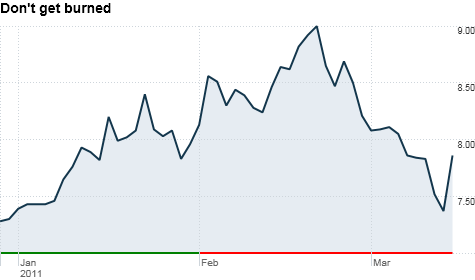 NEW YORK (CNNMoney) -- It seems callous to try and look for investing opportunities in the wake of a disaster as colossal as the earthquake and tsunami in Japan.
But you know what they say about Wall Street. Fear and greed motivate the stock market. Both emotions appear to be contributing to the sharp rise in solar energy stocks Monday morning.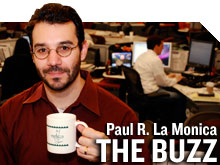 With fears of nuclear meltdowns running rampant beause of damage done to several nuclear reactors in Japan, traders are making the bet that this will lead to a surge in demand for solar power.
Shares of industry leader First Solar (FSLR), a maker of tin-film solar modules that's a member of the S&P 500, rose 4%. The Guggenheim Solar exchange-traded fund, (cutesy ticker symbol of TAN (TAN)) was up 6%.
And several Chinese solar companies, such as Trina Solar (TSL), Yingli Green Enegy (YGE), Hanwha Solar One (HSOL) and JA Solar Holdings (JASO), were all surging as well.
Analysts who follow the sector think the rally may be short-lived though. While Japan may be giving those who are worried about nuclear safety issues more evidence for their anti-nuclear argument, the reality is that nuclear energy won't go away overnight.
What's more, even if governments around the world do decide to cut back on nuclear spending, it's no given that solar energy will benefit.
"I'm a little skeptical of how long the solar rally can last. It does seem like a short-term trading call," said Christine Hersey, an analyst with Wedbush Securities in Los Angeles who covers the solar sector.
"What has happened in Japan will cause people to reevaluate nuclear as an alternative. But solar is not, at this time, a replacement for 24-hour energy generation" she added.
Solar energy has obvious benefits. It's a cleaner form of energy than coal, natural gas or other oil alternatives. There isn't a resource scarcity or ownership issue either since, last I checked, there's little that Libya can do to block the sun's rays.
The problem though is that solar energy is expensive to produce. Analysts say that without government assistance, it's not the most viable alternative to other forms of energy. And many governments in developed markets around the globe are currently fiscally challenged, to put it mildly.
Europe has been a big source of demand for solar energy. But the sector was rocked last year by worries that the sovereign debt crisis facing the PIIGS nations of Portugal, Italy, Ireland, Spain and Greece would hurt future sales.
Those fears are legitimate. Italy has recently indicated that it may cut back on big subsidies for solar companies, following similar moves by France and Germany.
This has already led one smaller solar company, Energy Conversion Devices (ENER), to issue a stark earnings warning. The company, which makes thin-film solar laminates that convert sunlight into energy, cited "disruptive uncertainty" that is "causing financing sources to put projects on hold."
"The dramatic and abrupt shift in the French and Italian solar incentive structures has impacted our business and forced us to reconsider our near-term financial outlook," said CEO Mark Morelli in a statement, adding that as much as half of this quarter's sales could be impacted.
That makes Monday's solar rally all the more curious. Even if the frightening news from Japan tempers any remaining enthusiasm for nuclear energy, it's not as if governments will suddenly find resources to boost their solar investments.
"I'm hesitant to say this is the beginning of a large rally for solar stocks," said Burt Chao, an analyst with Simmons & Company, a Houston-based investment bank that focuses on the energy sector. "Simply put, solar energy -- absent government subsidies that can be very fickle -- is not economical."
Now don't get me wrong. This probably isn't a good enough reason to go out and buy uranium companies that were getting crushed Monday. Shares of Cameco (CCJ) plummeted 15% while Uranium Resources (URRE) and Uranium Energy (UEC) each lost about a quarter of their value.
Hersey points out that the latest developments from Japan won't completely derail the nuclear energy industry.
"It will be difficult to convince governments to shut down existing nuclear plants that are already in place serving the electrical grid," she said. "This may influence decisions for new capital allocations for nuclear but that's still not a tangible short-term benefit for solar stocks."
Chao is even more blunt. He said that it's not as if there has been that big of a groundswell for nuclear energy -- despite some calls for more nuclear spending in President Obama's 2012 budget -- for more than three decades.
"Yes, there are lingering safety concerns, but sentiment has been pretty anti-nuclear in the U.S. since Three Mile Island," Chao said, referring to the accident at a nuclear plant in Pennsylvania in 1979.
So it's not as if there is pent-up nuclear business that can suddenly shift to solar. Yes, everybody knows the United States has to wean itself off of foreign oil. But leaders have still done little more than pay lip service to alternative energy -- which makes First Solar and competitors a dicey short-term bet.
Chao said that he thinks most solar stocks -- while not trading at valuations that he would call "offensive" -- are not "hugely enticing" either.
-- The opinions expressed in this commentary are solely those of Paul R. La Monica. Other than Time Warner, the parent of CNNMoney, and Abbott Laboratories, La Monica does not own positions in any individual stocks.