Japan earthquake: Avoid fundraising scams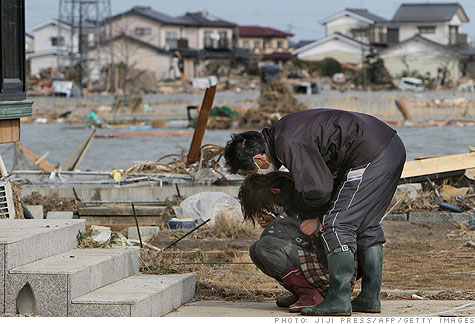 NEW YORK (CNNMoney) -- In the wake of Japan's quake crisis, many Americans are eager to help. But they must be aware of scammers seeking to take advantage of them.
The Federal Bureau of Investigation said they are already investigating one potential scheme where fraudsters misrepresent themselves as the British Red Cross and seek donations in the form of wire transfers.
"I hadn't heard about this yet, but sadly this has happened previously," said Penny Sims, spokeswoman for the British Red Cross. "After a major disaster there are some unscrupulous people that try to use other people's misfortune to their own end."
So far this is the only scam the FBI has received complaints about, but "agents are looking for more of those types of appeals," said Jenny Shearer, a spokeswoman with the FBI.
After the earthquake in Haiti, more than 350 complaints were filed about fraudulent activity, she said.
Avoid getting scammed
"Anytime something comes into your inbox asking for money, rather than answer, call your local Red Cross yourself," FBI's Shearer advised. "Anytime someone comes to you asking for money, you should be suspicious.
"In my experience, the Red Cross has never emailed me, never," she added.
To further protect those eager to make donations, the FBI has issued the following guidelines:
Do not respond to any unsolicited incoming emails.
Be skeptical of individuals claiming to be surviving victims or foreign government officials asking for help in placing large sums of money in overseas bank accounts.
Go directly to recognized charities' and aid organizations' websites instead of following a link from an email or another site.
Attempt to verify the legitimacy of nonprofit organizations by checking their status with Guidestar.org.
Be leery of emails that claim to show pictures of the disaster areas in attached files, as the files may contain viruses. Only open attachments from known senders.
Charity solicitations that seem suspicious can be reported to the National Center for Disaster Fraud; complaints can also be filed with the Internet Crime Complaint Center.