Hit iPhone app finds the foods you crave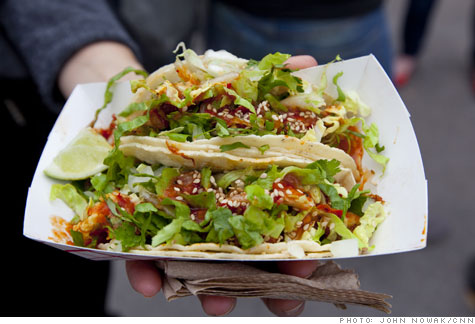 AUSTIN (CNNMoney) -- A crowded, sprawling event is the perfect place to peddle an app that lets you cut through noise and find exactly the right thing at the right time. Enter Foodspotting.
It's built around the idea of discovery. After a trip to Japan, Foodspotting founder and CEO Alexa Andrzejewski returned to San Francisco craving some of the cuisine she'd discovered on the road.
"There was no way to search for a specific dish," she said. "I couldn't get out of my head the idea that it'd be awesome to turn on my phone and discover good food."
Foodspotting became one of the buzzy startups that emerged from the fray at South by Southwest (SXSW) in 2010. A year later, the app now has more than 700,000 iPhone users.
Participants take pictures of foods they've tried and tag the images with a location and comment. When users open up the app, they can see pictures of food around them.
"It's like a more visual, natural way to discover things, instead of reading a bunch of reviews," Andrzejewski said.
The idea recently drew $3 million in venture capital funding, and expanded to the Android and BlackBerry platforms. To celebrate, Foodspotting hosted its second annual street food fest in Austin.
On Sunday, a parking lot filled with food trucks offered a wide mix of local favorites, from Australian meat pies to chicken and waffle tacos.
"Austin is really known for its food trailers," Andrzejewski said, adding that it's tough to find good food around the convention center that's the epicenter of SXSW. Her goal was to help convention attendees discover great local food.
When it comes to the business side of Foodspotting, the crew hopes to capitalize on flash deals.
"We really think that the market is becoming more and more ripe for restaurants to be able to post deals into streams," she said. Foodspotting also soon plans to let restaurants advertise their daily specials within the app.
There are now more than 400,000 foods "spotted" around the world. But Andrezejeswki has epic ambitions: "Our goal is to really catalogue all new foods in the world and where to find them."

For full SXSW coverage, follow @CNNMoneyTech and check CNNMoney.com/sxsw.