Japan's automakers: Down but not out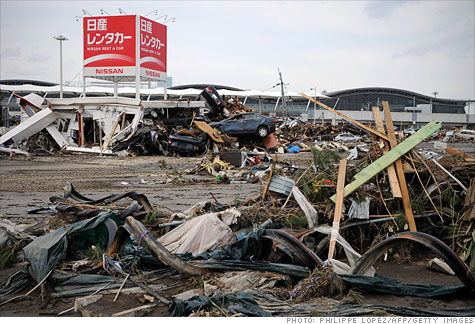 FORTUNE -- The scene might have been lifted from from one of those digital effect-laden Hollywood catastrophe movies -- except this time it was all too real.
According to Automotive News, Toyota (TM) dispatched two convoys of rescue vehicles -- six water tankers, two-fuel tankers, and nine cargo carriers -- to heavily-damaged northern Japan carrying food, water, and portable toilets. Toyota wanted to bring relief to an area where it operates two parts plants, as do two Toyota subsidiaries. All four facilities had been shut down since the earthquake on Friday. The mission got some welcome news. A Toyota spokesman said there were no reports of deaths or injuries, though the plants themselves suffered some damage.
The relief effort wasn't enough to get assembly lines restarted elsewhere, however. Toyota said it will keep all of its 12 main assembly plants in Japan closed through Tuesday and a spokeswoman says it may lose 95,000 units of production. In North America, Toyota slowed production by canceling overtime shifts to conserve parts.
Honda and Mazda Motor Corp. have said all their plants in Japan will be closed until Sunday. Suzuki Motor Corp. planned to keep all factories in the nation shut until Monday.
As Japan rescues the living, buries its dead, and awaits the outcome of efforts to stabilize its damaged nuclear reactors, the nation's auto industry is still trying to come to grips with a disaster that threatens to hamstring operations for a good long while. "We do not expect production to normalize any time soon," says a report by Korea's Tong Yang Securities. "It is hard to predict when production may resume until we can ascertain which auto parts makers have been hit and to what extent."
Securities analysts, meanwhile, are busy doing what they do best: Figuring out who the winners and losers will be as a result of the triple-headed catastrophe and bet on the outcome.
An incomplete tabulation suggests that the winners will include steel makers, Korean automakers, and used car owners. Among the losers: U.S. auto retailers, platinum and palladium producers, parts suppliers, and the Japanese auto industry itself.
In the six months following the Kobe earthquake of January 1995, shares of Toyota, Honda (HMC), and Nissan (NSANY) fell 22%, 35%, and 40% respectively, according to Tong Yang Securities, and needed up to 13 months to recover.
Both Honda and Mazda (MZDAF) announced that they were suspending production for the rest of the week. For Honda, it means the loss of 16,600 vehicles. Overall, HIS figures a global production loss of some 36,700 vehicles a day. That means more demand for used Japanese vehicles and hence higher prices.
Materials prices could move in opposite directions. Lower production also means less demand for palladium and platinum, used in the production of catalytic converters. By contrast, Malaysia's Affin Investment Bank says post-quake reconstruction will push steel prices higher as demand increases. Supplies of sheet, plate, and coil steel were hit by the earthquake.
In the U.S., Bank of America Merrill Lynch figures that big, publicly-traded car dealers have the most exposure to the Japanese catastrophe, because production halts mean fewer exports of Japanese brands, and thus fewer sales. AutoNation (AN, Fortune 500), Penske Automotive Group (PAG, Fortune 500), and Group One all get more than a third of their sales from Toyota, Honda, and Nissan. Overall, however, Bank of America figures the impact will be small -- equivalent to one day of supply disruption over a full year.
The disruption of production in Japan creates opportunities for ancient rivals on the Asia mainland. "Korean automakers, which compete with Japanese rivals in the global market, are likely to benefit from the disruption to production and exports to Japanese auto makers," says Hyundai Securities."Benefits are expected also for [Korean] parts makers as well since Japanese and global automakers are likely to increase outsourcing to them."
Of course, no one wants to profit from someone else's misfortune. As it stands now, the disaster will create short-term shortages, anomalies, and discontinuities. But Japanese automakers have been tested by catastrophe before and successfully recovered.
According to the latest ranking by Consumer Reports, the nation's most influential car advisor, Honda, Subaru, and Toyota stand as the three most proficient automakers selling cars in the U.S. (as measured by predicted reliability and road test results) while Mazda and Nissan outscore the likes of Mercedes-Benz and BMW.
Even an earthquake followed by a tsunami is unlikely to materially change that ranking.