Debit card fee battle heats up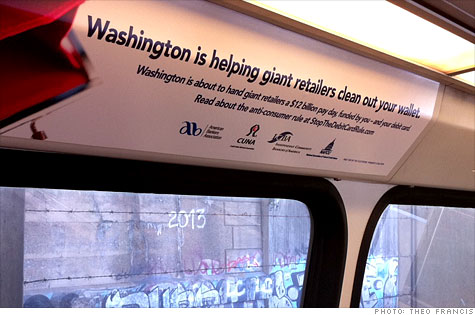 WASHINGTON (CNNMoney.com) -- The battle to sway hearts and minds over debit card swipe fees is heating up fast on radio waves, in Capitol Hill newspapers and even on subway cars throughout the nation's capitol.
With $16 billion in fees at stake, banks and retailers are spending millions to sway minds in Washington -- not to mention Montana, a state whose lawmaker is expected to enter into the debit-card-fee debate as early as Tuesday.
The debate is over the Federal Reserve's proposed 12-cent cap on so-called "interchange fees," which are the fees retailers pay to cover the cost of processing debit cards. Currently, those fees average 44 cents.
Thanks in large part to Sen. Dick Durbin, a Democrat from Illinois, lawmakers agreed last year to crack down on those fees. The idea was to help small businesses at the expense of credit card companies, such as Visa, as well as Wall Street banks, community banks and credit unions.
That rule has spurred banks and credit unions to complain it's too tough, and will cause them to make debit cards less convenient and more pricey for consumers. It has also spurred them to run ads on TV, radio waves and in Washington's subways.
One ad running in 100 D.C. Metro subway cars asks: "Where does Washington's $12,000,000,000 gift to retailers come from?"
In response, ads sponsored by retailers asks to keep the "Durbin swipe fee fix" saying: "Small business is getting ripped off," and blasting "the same big banks we bailed out" for protecting the fees charged to process debit cards.
Evan Tracey, president of the Campaign Media Analysis Group, said the spending is typical of these issue-oriented campaigns and mostly aimed at congressional staffers and regulators.
"The spending is mostly the sort aimed at opinion leaders," Tracey said. "They're not trying to make John and Jane Q. Public smart on the intricacies of debit cards."
In Washington, the lobbying battle on debit card fees has been hot for several years and shows up in sheer numbers of lobbyists hired to pressure the Federal Reserve.
Consider that retailers such as Wal-Mart Stores (WMT, Fortune 500) and Safeway (SWY, Fortune 500), started lobbying the Federal Reserve for the first time in years, according to records filed with the Senate.
The number of financial service sector lobbyists registered to lobby the Fed grew to 110 in 2010 from 67 the year before, according to the Center for Responsive Politics. Those figures also reflect lobbying on hundreds of other new rules the Fed is carrying out thanks to the Dodd-Frank financial reform law.
Thousands of small bankers and small business groups have been hounding their lawmakers both in Washington and home districts. Two weeks ago, the Credit Union National Association had 4,000 in Washington to attend a meeting and hit Capitol Hill to lobby lawmakers, spokesman Patrick Keefe said.
Both sides of the debit card fee debate have formed innocuous sounding coalitions vowing to fight for the little guy.
The Electronics Payments Coalition represents Visa (V, Fortune 500) and big banks such as JP Morgan (JPM, Fortune 500) and Wells Fargo (WFC, Fortune 500), as well as groups such as the National Association of Federal Credit Unions and Independent Community Bankers Association. They say they're fighting for consumers who want to keep using their debit cards without fear of new limits.
"I know that my card works and provides me with value," said spokeswoman Trish Wexler. "The proposed rule will very easily affect my pocketbook."
On the other side, the Merchants Payments Coalition includes the National Retail Federation and Petroleum Marketers Association of America. But it mostly talks about the impact on small businesses, because the swipe fees impact them the most, said Brian Dodge, spokesman for the Merchants Payments Coalition.
"The retail industry is united form the biggest retailer all the way down to the smallest retailers," Dodge said.
Later this week, Sen. Jon Tester, a Montana Democrat, is expected to file a bill to delay and study the debit fee caps.