Infrastructure bank: Plan would leverage federal money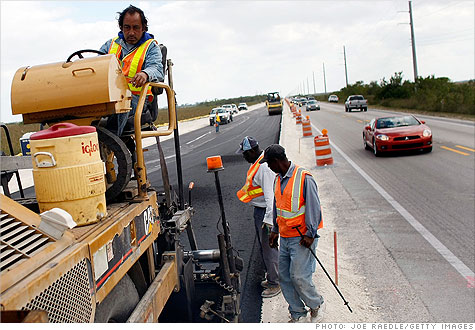 NEW YORK (CNNMoney) -- Can the federal government leverage $10 billion in spending into $640 billion in funding to build new roads and bridges?
Sens. John Kerry of Massachusetts and Kay Bailey Hutchison of Texas think so, and want to create a federal infrastructure bank that would provide loans and loan guarantees to help fill gaps in project financing.
Here's how it would work: After an initial round of federal funding, the bank would offer loans to give projects a needed jolt of money. Eventually, interest paid on the loans would make the bank self sufficient.
Kerry and Hutchison introduced the legislation -- dubbed the BUILD Act -- during a press conference on Tuesday. They were joined by an unlikely pair: AFL-CIO union boss Richard Trumka and U.S. Chamber of Commerce president Tom Donohue.
Trumka is a powerful voice for unions in Washington; Donohue represents the most influential business lobby.
The two organizations have come together before around common interests in government spending. But their willingness to speak in support of the proposal suggests the bill might gain momentum despite the anti-spending climate.
"We are living with very difficult budget circumstances, not just in Washington but in every city, state and town throughout America," Kerry said. "We need to do more with less."
The federal government currently spends about $65 billion a year on infrastructure, $50 billion of which goes to local and state governments in the form of grants. While that sounds like a hefty chunk of change, it's actually around 2% of federal spending.
Other countries -- including China -- are spending far more on infrastructure as a percentage of gross domestic product, Kerry said.
"We have a choice," Kerry said. "We can either build and compete and create jobs for our people, or we can fold up and let everyone else win."
The Kerry-Hutchison proposal is not the first time an infrastructure bank idea has been floated on Capitol Hill. But Kerry said the new proposal costs far less, and will be paid for by finding money in the current budget.
President Obama has long championed the idea of an infrastructure bank. Kerry said he had discussed the bill with the White House's top economic man, Gene Sperling, and Treasury Secretary Tim Geithner, who both responded favorably.
Obama's 2012 budget request contains a similar, albeit more expensive program. At a cost of $30 billion, that program would be housed within the Department of Transportation.
Kerry said his bill is an improvement because it costs less, and the bank would function independently. Taxpayer exposure would be limited.
The bank would never contribute more than 50% of a project's costs, and in many cases would provide much less, just enough to bring in private investment.