Ohio governor slashes $8B from budget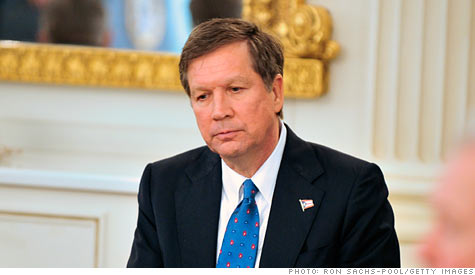 NEW YORK (CNNMoney) -- Fulfilling his promise not to raise taxes, Ohio Gov. John Kasich Tuesday unveiled a budget that slashes spending for many agencies and seeks to privatize certain government functions to eliminate an $8 billion budget deficit.
"We can't tax our way to prosperity, but we can't cut our way either," said Kasich in his town-hall style budget address.
The governor said he found savings not only in the $26 billion in the state's general revenue fund, but also in the special accounts that are usually dedicated to specific needs. Altogether, the state funds total $52 billion.
Titled "The Jobs Budget," Kasich's two-year spending plan slashes funding for local governments by 25% in fiscal 2012, which starts July 1, and 50% the following year. However, he said local governments will have more flexibility to control costs, such as sharing more services, and will get revenues from casino operations.
The budget also reorganizes several agencies and their functions. For instance, the Department on Aging would lose 90% of its funding but would also transfer responsibility for long-term care and other programs to other departments under the governor's health transformation initiative.
The governor said his reforms for Medicaid, which accounts for 30% of the state budget and growing, will focus more on coordinated care and preventative care. For instance, it will seek to provide services for the elderly so they stay out of nursing homes and to give prenatal care to pregnant women to reduce the number of low birth weight babies, whose care is very costly.
Overall, the reform measures are expected to save $1.4 billion over the two-year budget.
Social service programs, such as the health and the developmental disabilities departments, would take a hit, though Kasich said his budget protects the most vulnerable.
While state funding for education would rise slightly, schools will be hurt by the loss of federal stimulus money: $981 million in overall Recovery Act funds for Ohio dry up starting July 1.
Factoring in the loss of federal money, overall funding for education would drop 11.5% in the coming fiscal year. But Kasich promised to double the voucher program, lift the cap on charter schools and allow parents and teachers to take over failing schools.
Not all departments are getting whacked. The state's Board of Career Colleges and Schools will receive a 12% increase in state funding so it can better promote training and education at these institutions.
The Department of Development will get a 6.6% increase as it revamps economic growth programs and assists in the creation of JobsOhio, a public-private partnership created earlier this year to attract companies to the Buckeye State.
The budget also calls for leasing the state's wholesale liquor distribution system to JobsOhio to fund the state's economic development activities. Kasich also wants to privatize several prisons, putting $50 million of the proceeds into the fiscal 2012 revenue fund.
The governor's budget also preserves an $800 million income tax cut that went into effect in 2011 and offers $34 million in tax incentives.
Like his Republican brethren, Kasich says that economic growth is the only way to return Ohio to financial health. That's why he's so opposed to raising taxes. Since Ohio is already one of the highest-taxed states, Kasich said, companies won't want to relocate there if taxes are raised further.
"Too many of our successful entrepreneurs flee the state to escape high taxation," he said in his State of the State address last week.
Buckeyes want higher taxes
Ohio residents, however, are not as enamored of the governor's tactics. Some 53% of residents surveyed by the University of Cincinnati in early March said they would like to see the budget balanced through a combination of tax increases and state spending reductions.
Some 35% said they want the deficit eliminated only through reductions in state spending on programs and services.
The budget plan now goes to the state legislature, where lawmakers will weigh in on Kasich's proposals.