Dollar hits all-time low against yen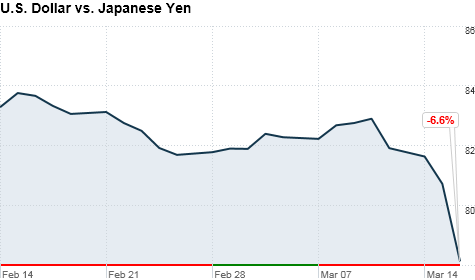 NEW YORK (CNNMoney) -- The dollar hit an all-time low against a strengthening Japanese yen on Wednesday, as global uncertainty and the prospect of more cash flowing into Japan pushed its currency higher.
The dollar fell as low as 76.54 against the yen in late trading Wednesday, dipping under the previous all-time low of 79.75 set in April 1995.
Despite the nation's turmoil, the yen has long been a haven for risk-averse investors. Japanese corporations are also expected to repatriate vast amounts of capital. Those funds are currently tied up in foreign markets but will be needed to facilitate rebuilding.
At this point, most analysts see global risk as the dominating factor for the yen's rise. Portugal's credit rating was downgraded on Wednesday. And violence in the Middle East and North Africa continued.
All that uncertainty is sending investors scurrying for cover, moving from high-risk assets into cash and bonds. The super-safe haven Swiss franc outpaced its competitors, setting a new high against the dollar Wednesday.
"Really what is happening now right now is a risk aversion story," said Brian Dolan, chief currency strategist at Forex.com.
The effects of repatriation will need more time to boost the yen, according to Michael Woolfolk, senior currency strategist at Bank of New York Mellon.
"This is not supposed to be a knee-jerk reaction. This is a market phenomenon that will take months to play out," he said.
Much of that has to do with the fact that the third phase of the disaster is still unfolding. On Wednesday, Japanese authorities were working feverishly to avoid a nuclear meltdown.
"We don't know yet what the full extent of the disaster is," Woolfolk said. "It's not clear how much money will be needed to rebuild or clean up."
Following the 1995 Kobe earthquake, the dollar fell sharply against the yen, reaching an all time low near 80. Analysts say things will play out differently this time, largely because of an anticipated intervention.
Japanese authorities are soon expected to intervene in currency markets to arrest the yen's appreciation. A stronger home currency will make Japanese goods more expensive in overseas markets, to the detriment of Japan's manufacturing industry. And because of the scale of the disaster, authorities will likely be given a free pass by their central bank counterparts.
Woolfolk said it would be politically intolerable for the Japanese government to allow much appreciation at all, and said he expects the line to be drawn near 80.
A relatively stable yen would allow Japan to turn its attention to other matters: calming equity markets, bolstering government bonds and starting the rebuilding process.