Time to buy Japan stocks?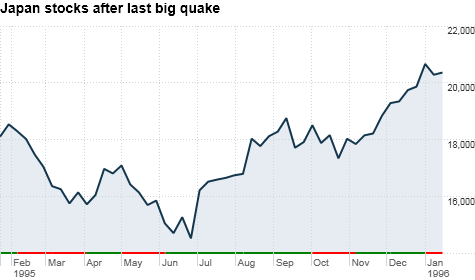 NEW YORK (CNNMoney) -- Japan's Nikkei stock index surged Wednesday after two days of heavy selling following the devastating earthquake and tsunami.
That could mean that it may be a good time for long-term investors to place bets on leading Japanese companies still trading at a discount. But it may be premature to say that the crisis is over.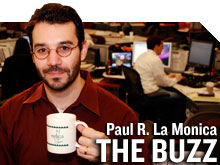 First and foremost, it's still not yet clear just how many lives have been lost and what the ultimate cost to rebuild infrastructure destroyed by the earthquake and tsunami will be.
Fears of radiation leaks due to damaged reactors at a Japanese nuclear power plant have only added to the uncertainty. The meltdown worries, perhaps more than the actual damage from the earthquake and tsunami, were a key reason why the Nikkei plunged 6% Monday and nearly 11% Tuesday.
So while it is encouraging that Japan's benchmark market index gained almost 6% Wednesday, history shows us that Japanese stocks may take a while to fully recover.
Following the massive earthquake in Kobe, Japan in January 1995, the Nikkei plummeted nearly 25% by late June of that year. But as the chart at the top of this page shows, the good news for investors is that by January 1996, the Nikkei was nearly 7% higher than where it was before the Kobe disaster.
Brett Hammond, chief investment strategist with TIAA-CREF Asset Management in New York, said a similar situation may play out following Friday's tragedy.
"When you look at disasters in developed countries, what you find is that there's a big hit immediately. But you then see an enormous amount of stimulus and spending and often a quicker recovery than people expect," Hammond said
So is it time to hunt for bargains? Perhaps. The United States-listed shares of Honda (HMC), for example, are still 7% lower than where they closed last Thursday. Toyota (TM) is down about 8% while Sony (SNE) is off by more than 12%.
"At risk of sounding callous, there may be some buying opportunities in Japan. The reaction was overdone due to pure fear," said Milton Ezrati, senior economist and market strategist with Lord Abbett, an investment firm in Jersey City, N.J.
While companies based in Japan clearly face enormous challenges for the next few months (if not longer) it may be a mistake to penalize companies simply because they are Japanese.
A lot has changed since 1995 and many Japanese firms now rely even more on the rest of the world for their revenue and profits. Many companies are not just doing increased business abroad. They are also building plants and opening offices in the United States, Europe and emerging markets.
"To think about Toyota as just a Japanese company is misleading. It's a global company," said Jason Thomas, chief investment officer with Aspiriant, a money management firm in Los Angeles.
Hammond agreed. And his firm has a stake in several well-known Japanese multinational firms. As of year's-end, TIAA-CREF owned Tokyo-listed shares of Toyota, Honda, Canon (CAJ), Hitachi (HIT) and Mitsubishi UFJ Financial (MTU).
But Thomas said investing in single companies may be risky. He said broader indexes might make more sense.
Along those lines, one option for investors is the iShares MSCI Japan Index Fund (EWJ), an exchange-traded fund that invests in most of the major companies trading on the Tokyo Stock Exchange. Unsurprisingly, it has fallen about 12% since Friday.
Of course, the magnitude of Friday's earthquake was significantly worse. With that in mind, it would not be surprising if Japan stocks took even longer to climb back to where they were trading before Friday.
There's another problem facing Japan though. To be blunt, it's not as if Japan was a healthy place to invest in before Friday's tragedy.
The country's government, like that of other developed markets, is laden with debt. Deficits are only likely to increase more as Japan takes the necessary steps to rebuild. But Japan has no other choice.
"Japan has a lot of long-term financial problems aside from the earthquake," said Ezrati, who is also the author of "Kawari," a 1999 book about Japan's economic restructuring. "But issuing more debt and rebuilding is the only way to fix the economy and make it able to fulfill its fiscal obligations for the long-term."
That may be true. But one money manager said it's still not a good enough reason to be buying Japan yet.
Fred Fraenkel, vice chairman of Beacon Trust, an investment firm in Morristown, N.J., said there's a difference between resting the urge to panic and actually going out on a shopping spree.
Fraenkel said his firm decided to not sell its stake in U.S. insurer Aflac (AFL, Fortune 500), which has plunged due to its big exposure in Japan. But he's not willing to invest more heavily in Japan because the radiation concerns are just too much of an uncertainty.
"The nuclear situation is a risk that you don't know how it's going to eventually play out. And some of the worst-case fears already seem to be starting to play out," he said.
-- The opinions expressed in this commentary are solely those of Paul R. La Monica. Other than Time Warner, the parent of CNNMoney, and Abbott Laboratories, La Monica does not own positions in any individual stocks.